Scrubby and Apollo: Elevating Email Campaign Efficacy
The demand of the modern market certainly leads businesses to use secure and trustworthy lead data vendors for effectively acquiring new prospects and potential clients. Successfully completing this process companies can strategize directed and targeted email campaigns for enhanced outcomes and ROI rates.
In the meantime, integrating a holistic and potent email validation tool is a step forward to having a "healthy" email list to eliminate the non-existing and problematic emails from your campaign leading you directly to your intended recipients.
Apollo.io and Scrubby are top-notch tools in the field of data-driven sales intelligence and email validation. This combination emerges from trustful data resources with validated email lists. Apollo.io aims for holistic prospect discovery and workflow automation, while Scrubby drives a robust email validation system to ensure that the marketing campaign has successful outcomes.
Apollo.io and Scrubby: Uniting the Skills for Better Outcomes
When launching a new email campaign, it is essential to focus on cleaned-up and valid email lists. Synergizing the features of such tools as Apollo and Scrubby will significantly ease and elevate the process of email leads acquisition and list optimization leading to successful outreach processes.
Combining the "power" of Apollo and the "skills" of Scrubby, marketers will smoothly streamline not only the lead generation process but also complete email list validation. This, in turn, ensures the highest deliverability level and reduces the possibility of email bounces thus elevating the campaign's Return-on-Investment rate.
These are the key features of both tools: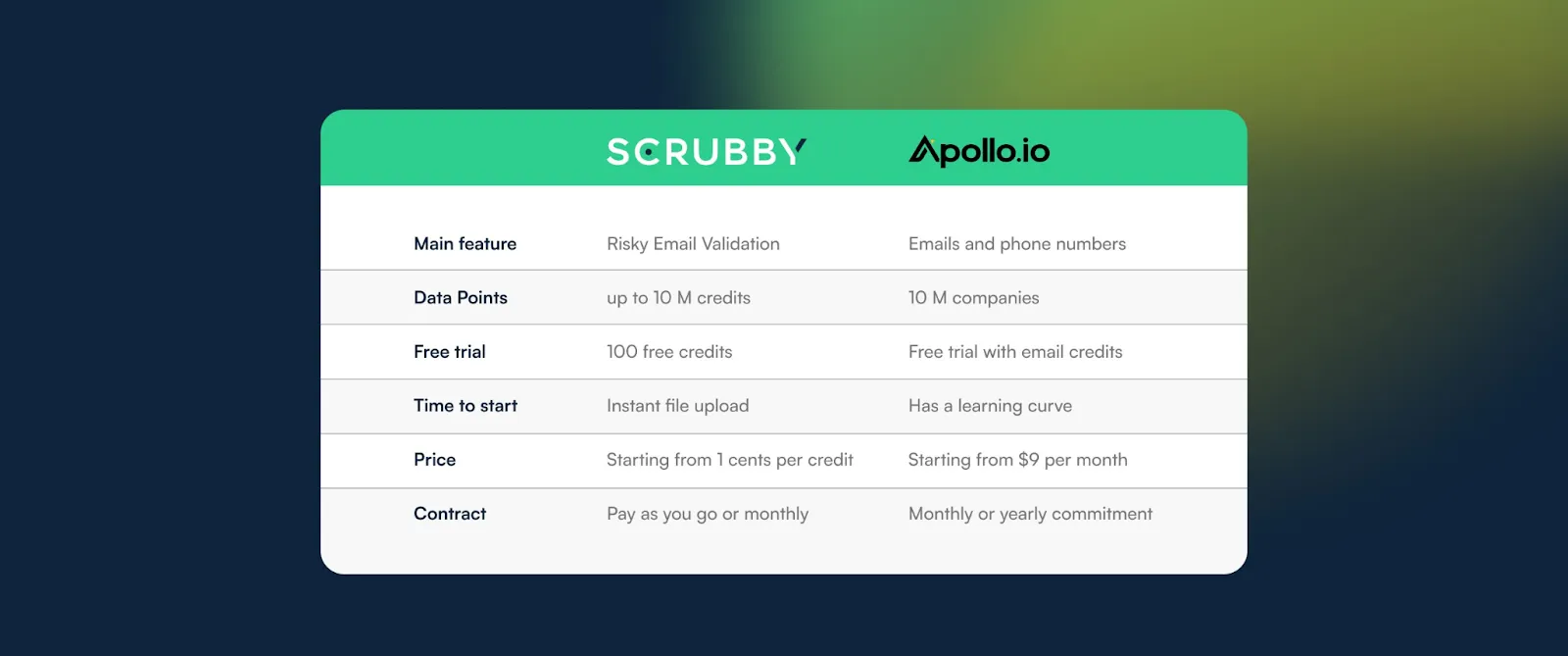 Apollo's reliable and extensive contact database with over 265 million leads enables the extraction of high-quality prospects putting in action the tool's advanced filtering and search options. This assures that the lead list is highly relevant to the campaign's intended audience.
Apollo's 7-step thorough verification with up to 91% accuracy, you can easily categorize emails into "Valid", "Invalid", and "Risky" segments thus aiming to include or exclude some of them from your future email campaign. The RISKY portion is on average 40% and here is where Scrubby can jump in and result in 2x of your initial result.
Scrubby ensures a smooth validation process with up to 98% accuracy by not only validating the existing and non-existing emails but also leveraging the risky and problematic catch-alls still enabling their usage in the campaign. This significantly expands your email list ensuring that no qualified lead will be lost or dismissed. Scrubby's thorough validation guarantees that your email list is free of deliverability issues which reduces the bounce rates for the campaign.
Enabling seamless API access, Apollo and Scrubby make the lead acquisition to validation workflow simpler by enhancing the lead database transfer between these two platforms. This greatly saves time and resources allowing businesses to craft personalized and targeted email campaigns with validated email lists, thus enhancing the success of their marketing campaigns.
Apollo.io – Leveraging AI-Driven Sales Intelligence Tool
If you are looking for an ideal sales intelligence tool for business-to-business operations that offers a holistic approach to all sizes and types of companies and organizations then Apollo is without a doubt one of the key players. This comprehensive platform with over 265 million contacts promises smooth sales processes accompanied by strong data privacy and accuracy level boosting the effectiveness of sales and marketing teams' efforts.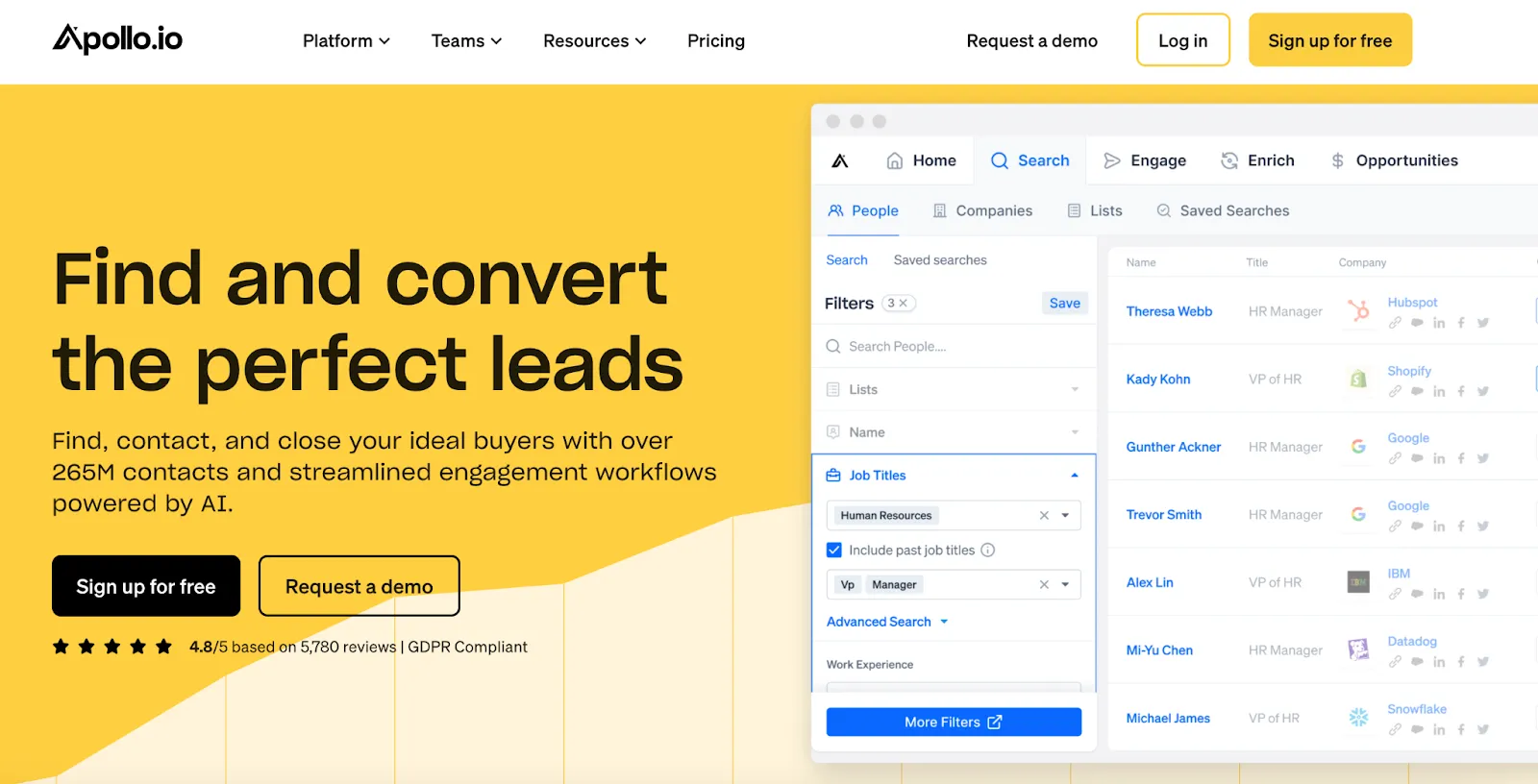 Apollo enables users to get high-quality leads and contacts by leveraging its advanced filters and search tools, bringing into action parameters such as name, location, industry, title, etc. Moreover, AI integration gives outreach specialists an opportunity to get valuable suggestions in their detail-oriented email list-building process, as well as precise insights and analytical reports.
Apollo stands not only as a powerful lead database but also helps to automate the entire team workflow and determine the sales funnel steps thus approving the campaign efficacy.
Key Benefits of Apollo
New contact discovery
AI-powered search suggestions
Database enhancement and management
Buying intent company data provider
Workflow automation and task management
Integrations with HubSpot, Zapier, Gmail, Linkedin, Salesforce, etc.
API access
AI-powered insights and analytical reports
AI-driven conversations
Ready-made templates for end-to-end automation
Email tracking
Compliance with GDPR, CCPA, CPRA, and other data privacy regulations
7-step verification
91% accuracy level
Fast replying round-the-clock support service
Apollo's Verification Process
Besides its huge lead database, Apollo also stands as a comprehensive verification tool by identifying existing and non-existing email addresses. With this advanced feature, Apollo helps users to quickly find qualified prospects thus tracking the deliverability for successful campaign results and reduced bounces.
Apollo determines the validity of email addresses by smoothly running syntax, domain, and email checks and providing insights into a "real" email address user's activity. The verification process consists:
Verifying emails against CRMs, CSV uploads, and Apollo-connected inboxes,
Tracking email deliverability statistics
Managing bounce rates
So, with the 1 Apollo credit, you will get a totally verified email against a huge database and a highly categorized email list with highlighted "Valid", "Invalid", and "Risky" emails.
Scrubby: Deep Insights into Email Validation Process
Scubby is a powerful email validation tool to validate risky catch-all emails meanwhile ensuring their continuing usage. Scrubby is a comprehensive solution to protect website domains from potential harm caused by hard bounces. These, in turn, are the consequence of invalid email addresses included in your email list.
Scubby's working process includes the following steps:
Importing the user's own email list or from a third-party data vendor, such as Apollo.
Completing detailed validation check.
Obtaining a cleaned-up email list within a brief turnaround time of 2-3 days.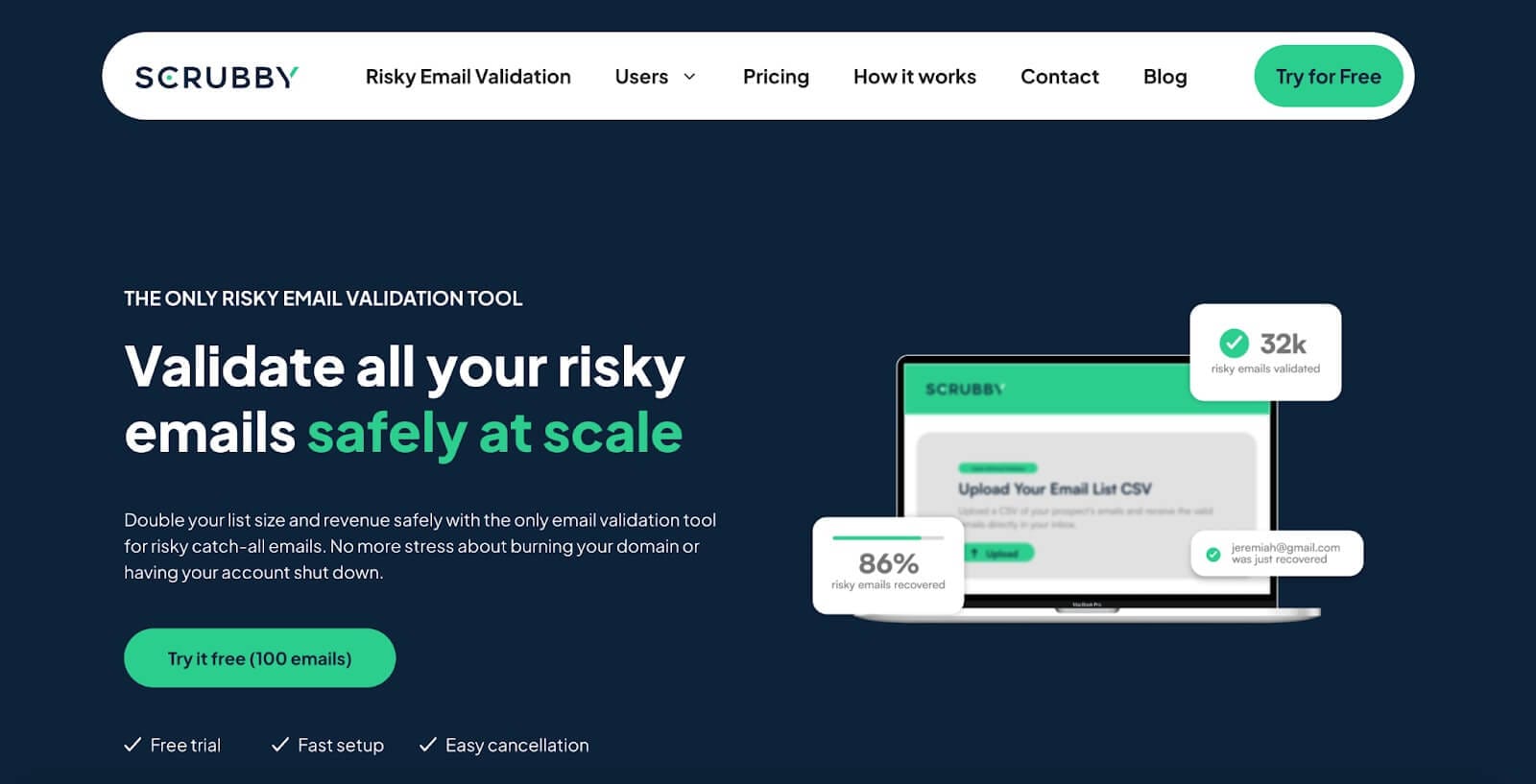 Scrubby's Main Benefits
Being mainly focused on the "Risky" email segment, Scrubby shines with seamless and intuitive operation scoring up to 98.7% accuracy rate in detecting hard bounces.
As data privacy is an essential part of the email validation process, Scrubby strictly adheres to the most important data encryption protocols, securing sensitive information across email data.
With its affordable and highly flexible pricing model, all sizes of businesses can discover the most suitable plan, while the free trial period with up to 100 free email credits gives an opportunity to initially explore the tool's capabilities and pay as you go model for those whose validation needs fluctuate
Boosting the open and response rates and increasing the Return-on-Investment rate by up to 2 times, Scrubby aims to facilitate successful and revenue-growing email campaigns. While the majority of verification tools categorize the list emails into "Valid", "Invalid", and "Risky" segments, Scrubby smoothly dives into the list of "Risky" email addresses by conducting a thorough validation process to enhance the email list quality and reintegrate these problematic emails back to the list. This, in turn, becomes a decision-maker to include or exclude some specific email addresses in the email marketing campaign, touching the more targeted audience.
Scrubby's Key Features
98.7% accuracy level
Free trial with 100 validation credits
Integrations with famous SMTP-based email verification tools and comprehensive data vendors
API access
Fast and smooth setup process
Transparent pricing plans with a high level of flexibility
Compliance with data security measures and GDPR
Fast-responding 24/7 customer support through email or live chat
Discover the benefits of Scrubby with an introductory gift of 100 free credits, yours to use within the first week after signing up. Dive into the functionality and see the immediate impact on your email validation tasks.
Step into streamlined email management with our Starter subscription, priced at an accessible $27 monthly. This package provides 1,000 email validation credits, perfect for growing businesses. For organizations handling larger volumes, our corporate and enterprise options offer substantial credit packages up to one million, with rates as low as one cent per credit. Tailor your experience with our range of plans or contact customer support for a bespoke offering.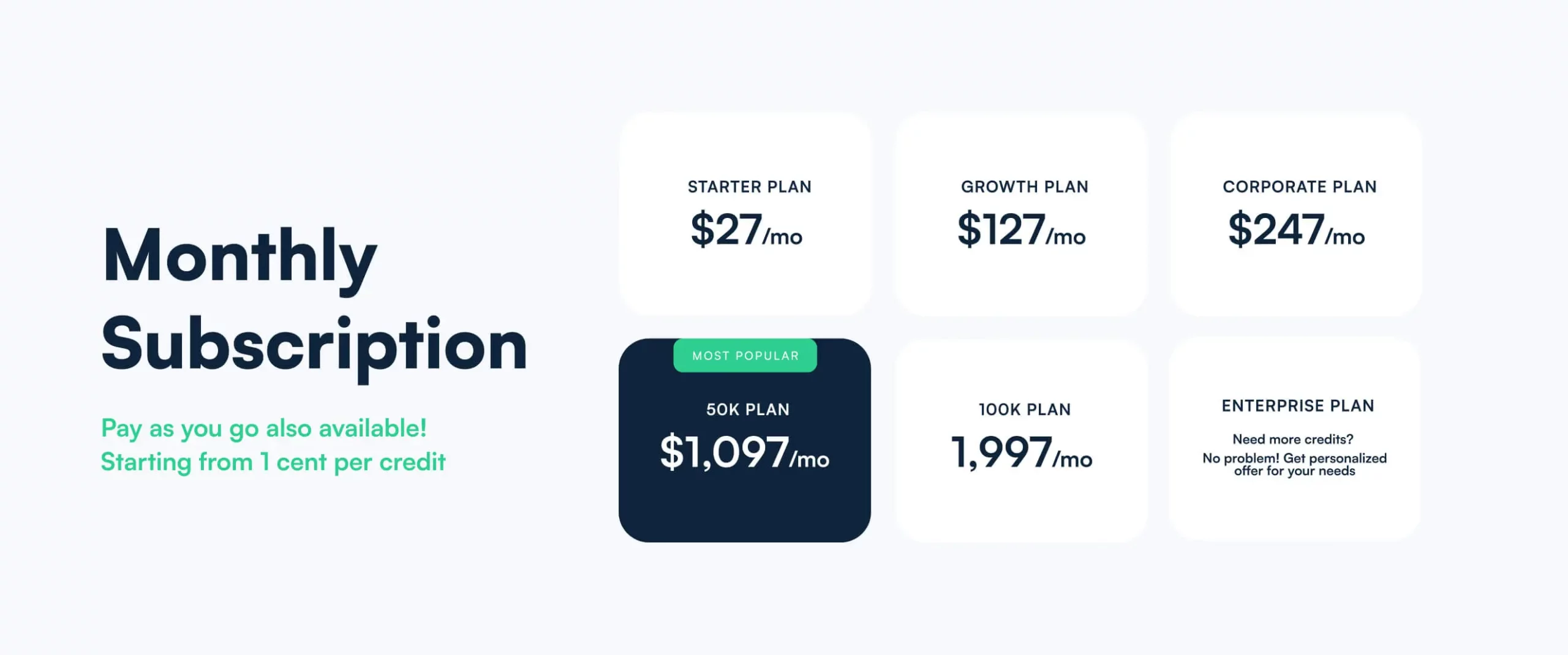 Our Pay As You Go Model is ideal for businesses with variable validation requirements, allowing you to purchase only the credits you need, when you need them. If regular validation is part of your operations, consider our monthly subscription to enjoy savings of up to 33%, enhancing both your efficiency and your bottom line.
The Importance of Data Vendors and Validators in Result-Oriented Campaigns
Accurate data allows you to avoid sending emails to inactive or non-existing email addresses.
Enhanced email deliverability ensures you hit the inbox of your intended recipients by preventing spam complaints.
Cost-effectiveness reduces the expenses associated with ineffective email marketing campaigns.
Maintain IP and sender reputation.
Acquire new customers with targeted campaigns.
Apollo and Scrubby together offer a potent and holistic solution for all sizes of businesses assisting them in reaching their marketing goals with big accuracy and efficacy.