Scrubby and NeverBounce: Enhancing Email Marketing Efficacy
Email Marketing is a proven efficient way to boost your business. A high Return on Investment (ROI) can be achieved if you focus on the email deliverability which is very important for building successful Email Marketing campaigns. For this, you should regularly review and clean up your email lists. Luckily, there are various tools to complete the email verification and validation easily without hassles. Combining the advanced features of these tools to reveal existing, non-existing, and risky catch-all emails will enable you to strategize a more result-oriented Email Marketing campaign making sure that no qualified lead will be rashly dismissed from the email list.
A Two-Pronged Approach: Email List Verification and Validation
Email verification and validation are closely intertwined with each other playing a prominent and integral role in the achievement of favorable outcomes in an Email Marketing campaign. Verification mainly evaluates email address validity by highlighting invalid entries and reducing bounce rates. While validation dives deeply into an email list, swiftly reveals and flags potentially risky and problematic emails allowing their reintegration into a campaign.
Simply put, verification mainly focuses on enhancing the email list validity by segmenting email addresses into "Valid", "Invalid", and "Risky" categories. Conversely, validation buckles down to examining the risky catch-all emails to maintain the list quality through the ongoing checking process.
Streamlining the Email Lists in 3 Simple Steps:
Use your own customer base or scrape your email list addresses from a 3-rd party data vendor, such as Apollo, Cognism, etc.
Verify your email list with an email verification tool, such as NeverBounce.
Validate the risky catch-all portion from that list with Scrubby.
File to use the list for Email Marketing campaigns.
NeverBounce – Boosting a High Level of Email Deliverability
NeverBounce is an advanced real-time email verification software that aims to deliver perfect email list quality quickly. This multifaceted tool provides a comprehensive suite of features and solutions to obtain a verified email list:
Email List Cleaning: Upload any size of an email list or import it from more than 85 integrated data providers.
Main Verification Stage: Verify and filter out "Valid", "Invalid", "Accept All" (unverifiable), "Unknown", and "Disposable" email addresses directly at the entry point.
Synchronization: Leverage the power of an automated email list cleaning process seamlessly integrated with your email provider.
You have two methods to obtain verified email lists with NeverBounce:
Upload your email lists manually and download the segmented results of high accuracy in an instant.
Connect an API for bulk email lists' verification.
There are more than 20 steps that NeverBounce passes through during the email cleaning process. Furthermore, the tool checks your email list's addresses up to 75 times to guarantee accuracy. The checking steps include:
Hybrid verification to identify more catch-all emails
Verification of the mail server
Duplicate email removal
Checking the domain health
Real-time harmful email detection
Email verification for all types of businesses and all the major email platforms, such as Google or Yahoo.
Also, NeverBounce enables you to add verification options anywhere your email addresses are collected, such as landing pages, registration forms, CRMs, CMSs, etc.
Here are some key points to highlight about NeverBounce:
Verification Accuracy: Receiving a totally verified email list with a remarkable speed, you can expect up to 99.9% verification accuracy rate when using NeverBounce.
Data Privacy: NeverBounce takes data privacy seriously and is GDPR compliant.
Pricing: After the signup process, NeverBounce users receive free verification credits. The pricing model is quite flexible, offering to pay only for the credits users will actually utilize.
Main Benefits of NeverBounce
Easy setup process
Quick result segmentation
High level of data security
80+ integrations
API access
Bounce analysis
New users testing
More than 25 additional advanced metrics
Round-a-clock customer support service via phone, live chat, and email
Scrubby – Exploring Advanced Email Validation Features
Scrubby is an Email validation tool that is strategically developed to enhance the optimal size and effectiveness of your email list paying special attention to the "Risky or Catch-all" email addresses. By using this tool you can rest assured that neither your domain nor the IP reputation will be at risk. Furthermore, you will receive two times more open and response rates. This, in turn, prominently impacts your campaign's Return-on-Investment.
Validation Accuracy: With almost 99% accuracy level, Scrubby reduces your Email bounces.
Data Security: Scrubby maintains a high level of data security and GDPR compliance.
Pricing: Scrubby provides a Free trial period with 100 credits and flexible pricing plans to match any type of business.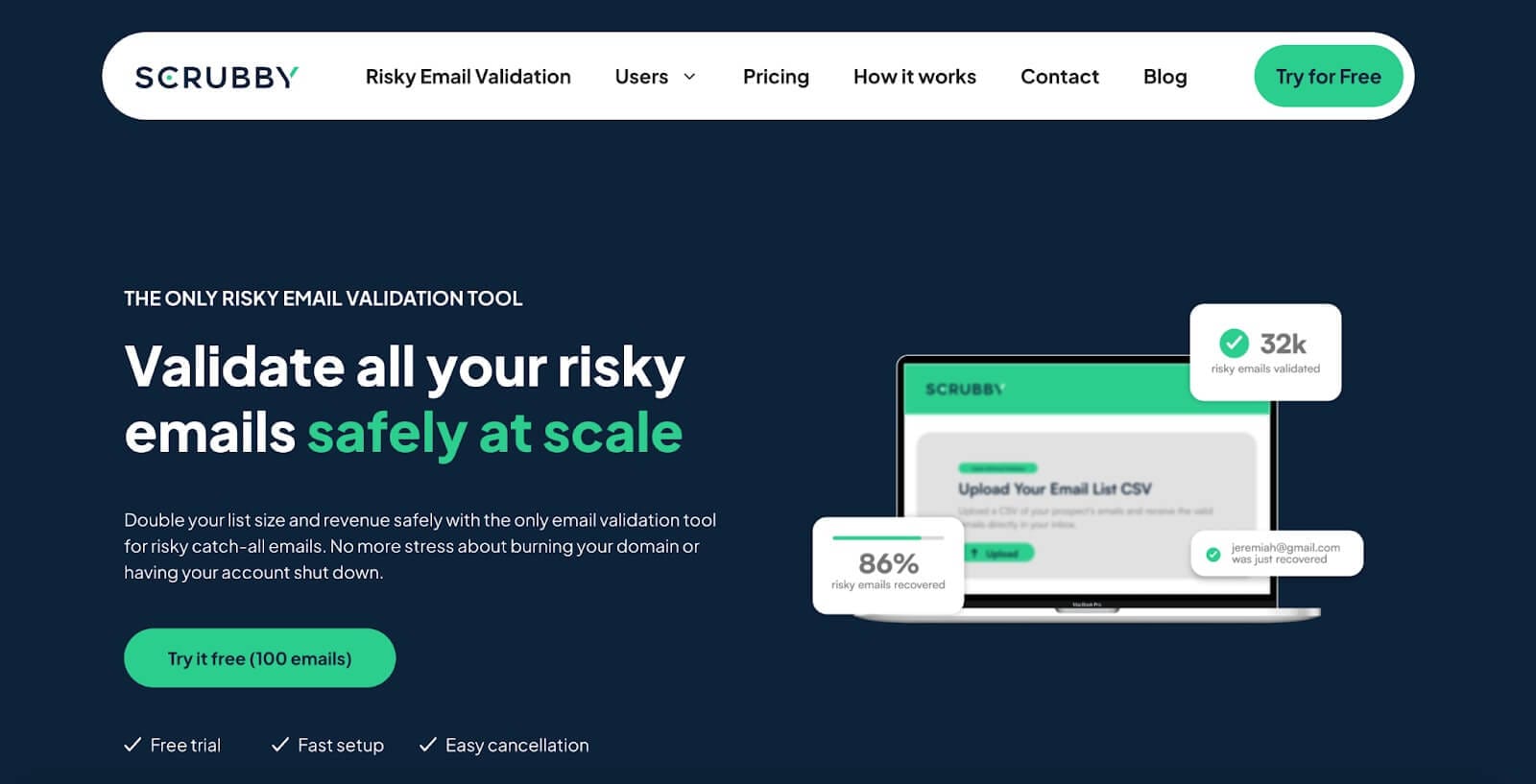 Scrubby is an ideal complementation to all SMTP-based email verification tools like NeverBounce, by distinguishing risky catch-all addresses and validating them to allow you to use them afterward. This process will greatly help you hit the right Inbox and reduce the possibility of appearing in the Spam folder. Scrubby does this in just 48-72 hours with almost 99% accuracy level benefiting all sizes of businesses from startups to established companies. Our email list validation service waits 48-72 hours before giving you your lead list back as some emails can bounce up to 2 days after sending.
Main Benefits of Scrubby
Easy setup with a user-friendly interface
Free 100 credits to validate emails in 7 days
Compliance with the SMTP-based email verification tools:

NeverBounce
ZeroBounce
MailerLite,
etc.

Major data providers support:
API access for additional software integration
Email Marketing and CRM tools' integrations
Ongoing data insights
Compliance with GDPR and data security
24/7 fast replying customer support service via Live chat and Email.
Experience Scrubby with 100 complimentary credits available for all new sign-ups, valid for your first 7 days. Discover the versatility of our platform and how it can streamline your email validation process.
Embrace efficiency with our Starter subscription plan, starting at just $27 a month. This plan equips you with 1,000 email validation credits, ideal for small to medium-sized businesses. For larger organizations, our corporate and enterprise tiers offer up to 1 million credits at competitive rates, dropping to as low as 1 cent per credit. Select from our structured plans or reach out to our customer support for a custom solution tailored to your needs.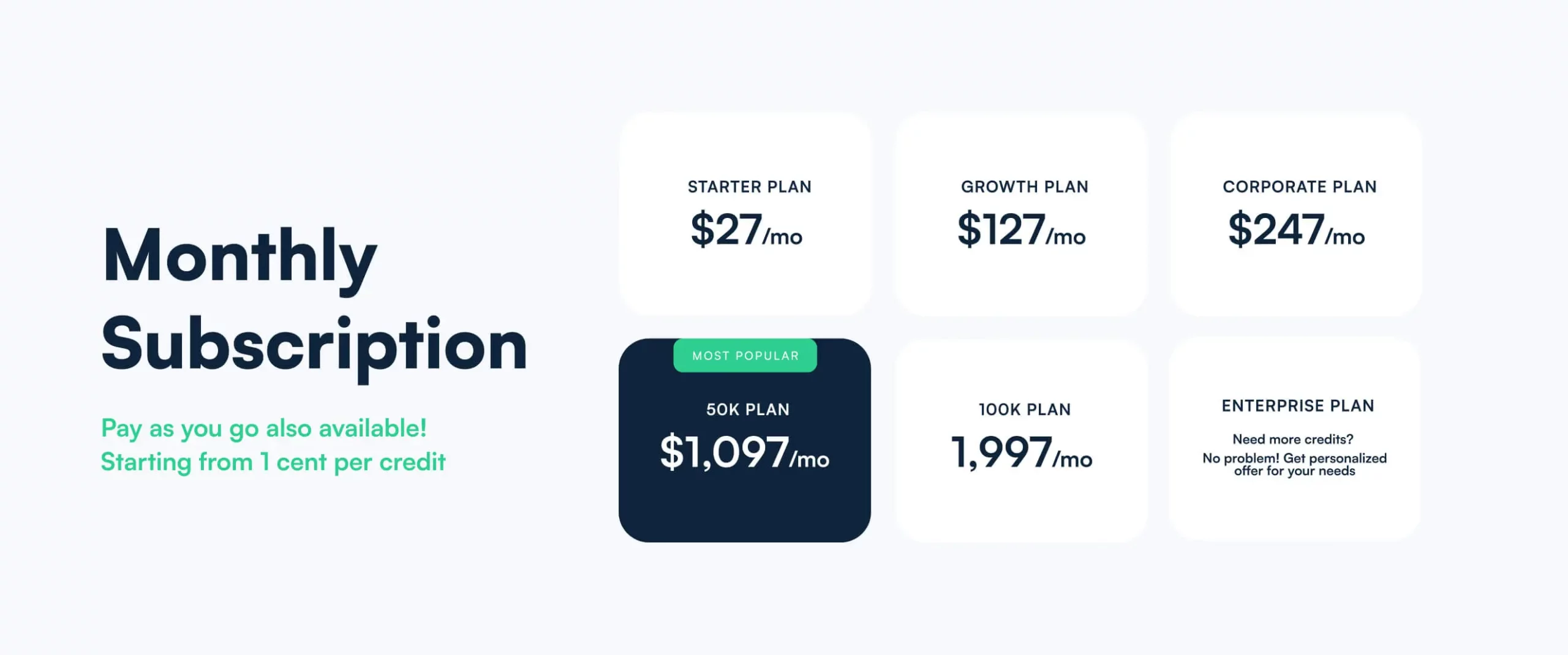 For those whose validation needs fluctuate, our Pay As You Go Model offers the ultimate flexibility—purchase the exact number of credits you require with no additional commitments. Plus, by choosing a monthly subscription, you could save up to 33%, making it a smart choice for consistent savings.
Maximizing Email Marketing Success with Data Vendor and Validation Tools
Using accurate data providers and validation tools should be a starting point for your Email Marketing campaign. To maximize the benefits of your planned strategies, it is essential to leverage the power of trustworthy data sources and validation processes to have clean email lists. This, in turn, will greatly impact:
Better email deliverability
Open rates
Reduced bounce rates
Boosted user engagement
High ROI
The collaborative approach of uniting Cognism with Scrubby will lead your business to reach its target audience and stand out in the competitive digital market.
Harmonizing The Features of Scrubby and NeverBounce for Strategic Email Campaigns
By combining the ongoing validation capabilities of Scrubby with the high-level verification prowess of NeverBounce you will be able to implement a strategic approach to your Email list management.
Email List Upload: By seamlessly harnessing the third-party data vendor integrations, you can upload your email list for verification with ease.
Initial Verification: The advanced functionality of NeverBounce approves a streamlined verification process with email list segmentation into 5 distinct categories.
Final Validation: Next, Scrubby takes the helm by validating all the risky catch-all emails still assuring their usability in your upcoming campaigns.
Structured Email Campaign: Finally, you can use meticulously "cleaned up" email lists that have undergone a detailed examination to get you closer to your target audience.
Scrubby and NeverBounce – Unveiling the Contrasts
Verification and Validation: NeverBounce primarily verifies email lists by providing comprehensive data about existing and non-existing email addresses. Whereas, Scrubby validates the risky accept-all emails reintegrating them into the campaign.
3rd Party Integrations: NeverBounce stands out with more than 80 integrations with CRM, Data Providers, and Email Marketing platforms. Meanwhile, Scrubby enlarges its integration capabilities with API access.
Pricing: Scrubby generously gives 100 free email validation credits to check the tool in action. Whereas, NeverBounce users receive only 10 email verification credits in the free trial period. Both tools provide an adaptable pricing system.
To Wrap Things Up: Combining Verification and Validation Processes for Optimized Email Marketing
Scrubby and NeverBounce are Email list management giants each renowned for their unique capabilities. Combining the best features of both tools, you can seamlessly integrate the best features of each receiving optimized, thoroughly managed, accurate, and precise email list. This strategic approach ensures that your Email marketing campaign will go beyond ordinary standards focusing on reaching both optimal deliverability and a considerably higher engagement rate boosting your brand on an online platform.