Scrubby and ZoomInfo: Leveraging the United Power for Better Email Marketing Strategies
As the world undergoes high scales of digitalization, the ever-changing Email Marketing strategies demand strong competition directly connected to the rapidly growing customer needs. In this case, the role of data vendors and validation apps becomes more than crucial. They not only enable concrete audience targeting and enhanced email deliverability but also build a high level of business reliability and scalability. One of the main aspects that lies at the core of successful user engagement is the email deliverability issue.
Making sure that their messages directly reach the intended audience's inboxes is crucial in building valuable business-to-customer relationships. High email deliverability rates not only improve the marketing campaign reach but also serve as a foundation for increased brand awareness, client loyalty, and growing sales. For this, integrating powerful data vendors such as ZoomInfo and efficient validation tools like Scrubby has become essential for achieving ongoing business success.
Combining the Skills of Scrubby and ZoomInfo for Optimized ROI
If you tend to launch an effective Email Marketing campaign then combining the skills of these powerful tools is highly important. ZoomInfo plays a crucial role in helping businesses of all types and sizes to build targeted and segmented email lists. Even though it provides you with targeted lists, an average of 40% of email addresses included are risky or catch-alls. These email contacts are usually left out of the campaign. So the results of your campaign are almost half as expected. Even if you have an email validation tool, then these risky emails cannot be used if you are not willing to risk your IP reputation. Here Scrubby comes into play.
So using a data provider like ZoomInfo and an email list validation tool like Scrubby is a perfect step to plan effective Email Marketing strategies. Here are the reasons why you should start your campaigns from that point:
Improved Email deliverability rates
Maintained sender reputation
Compliance with data protection regulations
Comprehensive market insights
Cost-effectiveness
Personalized customer experiences
In addition to growing Email Marketing outcomes, this detail-oriented approach of using ZoomInfo and Scrubby also contributes to increased email CTRs, email campaign's open rates, and accordingly, conversions.
Businesses that tend to access valuable analytical reports about new marketing trends, customer behaviors, and competitive market transformations can highly rely on ZoomInfo's advanced real-time insights to develop the most relevant email message content and deliver personalized experiences matching the targeted audience's preferences.
When designing an Email Marketing campaign, maintaining a high level of email deliverability is often failed by invalid or risky email addresses within your email lists and marketing database. This is where the role of Scrubby comes in handy. Scrubby's comprehensive technique of email validation highlights "Valid", "Invalid", and "Risky" email addresses thus still enabling to use them in the validated email list. Scrubby smoothly detects and highlights problematic and risky email entries, by not only reducing bounce rates but also improving the email list quality.
Reduced bounce scores greatly impact Email Marketing results. With each bounced email, the sender's credibility appears to be at risk, potentially leading to the categorization of future emails as spam. Scrubby's role in minimizing bounce scores thereby plays a pivotal role in maintaining the sender's reputation, keeping their credibility, and stating a positive relationship with ISPs, which is one of the most important factors in ensuring continued deliverability to the inbox.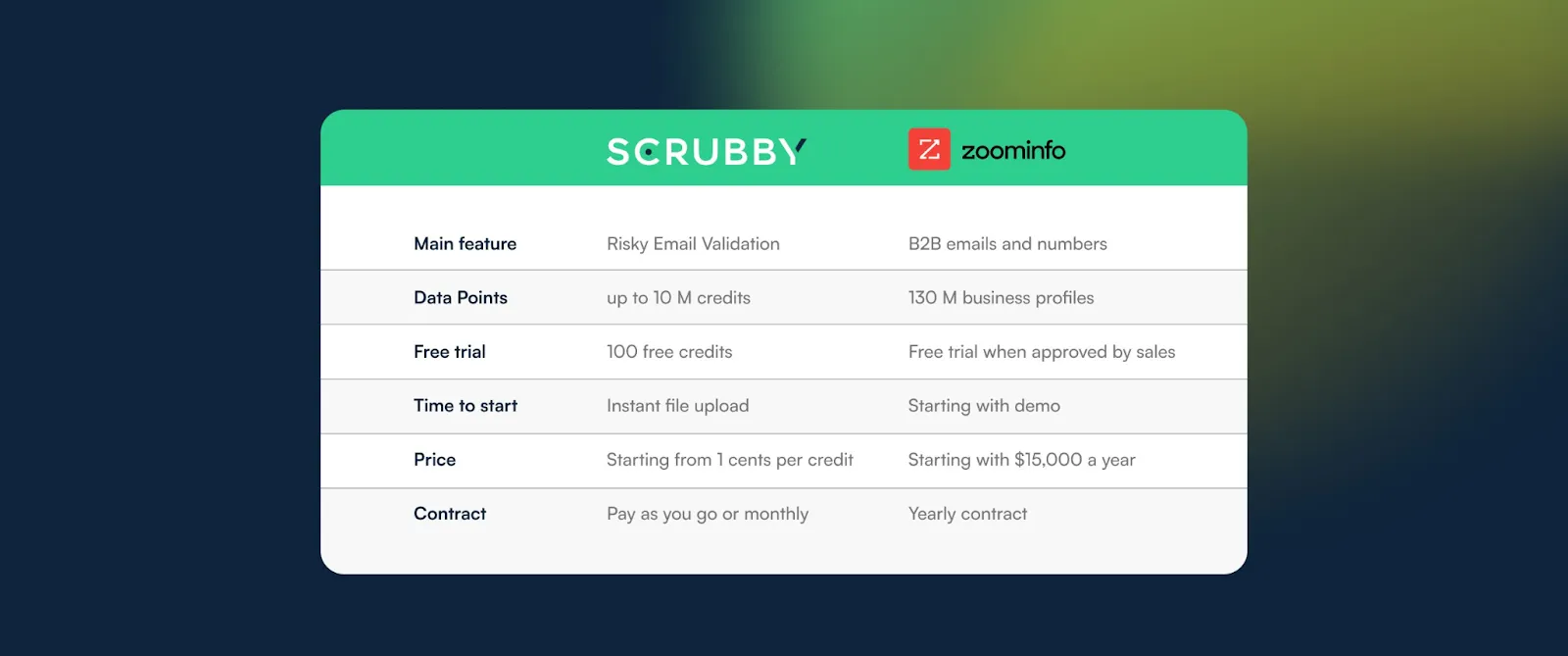 In order to provide you with comprehensive information about both tools, we have listed some of their most advantageous benefits separately.
ZoomInfo: Powerful Global Customer Database
ZoomInfo is a renowned data provider with a global database of not only detailed business information but also individuals.
ZoomInfo's database will be highly usable for:
Sales and marketing professionals who want to generate qualified leads
HR specialists and recruiters who are trying to find new talents
Business experts who seek to obtain comprehensive data insights
ZoomInfo's Main Benefits
Potent data-searching techniques: ZoomInfo continuously enlarges its user base, which already includes millions of company websites and email addresses.
All-in-one go-to-market platform: This helps to strategize how businesses find, acquire, and grow their customer base.
Real-time insights: ZoomInfo's comprehensive approach that combines data and technology enables businesses to connect with their clients and unite their sales and marketing teams' efforts in successful marketing strategies.
Reliable data: ZoomInfo seamlessly connects your marketing team with clients from all over the world ensuring a correctly organized engagement process.
Zoominfo helps businesses scale their GTM strategies:
Automate customer outreach
Simplify their tech stack
Lead to faster and more efficient operations
The data vendor complies with the market-leading B2B data resources providing strong analytical insights in the form of firmographics, corporate hierarchy insights, and industry-leading intent signals.
ZoomInfo's Key Features
Easy setup and a free trial opportunity
Verification through NLP, AI, and ML
GTM-ready data monitoring and updates
GTM platform with 4 solutions:

SalesOS (search for contacts and companies)
MarketingOS (cross-channel advertising)
OperationsOS (data deduplication)
TalentOS (talent search)

Integrations with a wide range of CRM, ATS, Sales Acceleration, and Marketing Automation tools
Real-time data insights
Global data coverage
High level of data privacy
Campaign Coordination
Outreach automation
Whether you are a fast-growing startup company or an established business, you can still benefit from a wide array of features of ZoomInfo.
ZoomInfo's pricing is highly customizable based on your business needs and budget, as well as what features and functionalities you want to access, and how many credits you want to utilize. So, it gives users the flexibility to choose a convenient and affordable ZoomInfo package to benefit from. By contacting ZoomInfo's sales department you can make sure to receive a personalized pricing plan for your company.
Scrubby: Providing Valid Email Lists for Your Campaigns
Scrubby is a powerful tool aiming to ensure better results for your Email Marketing campaigns with highly optimized and valid email lists. It works with up to 99% accuracy level. Valid email lists play a prominent role in reducing email bounce rates, segmenting the right audience, and protecting the sender's IP reputation.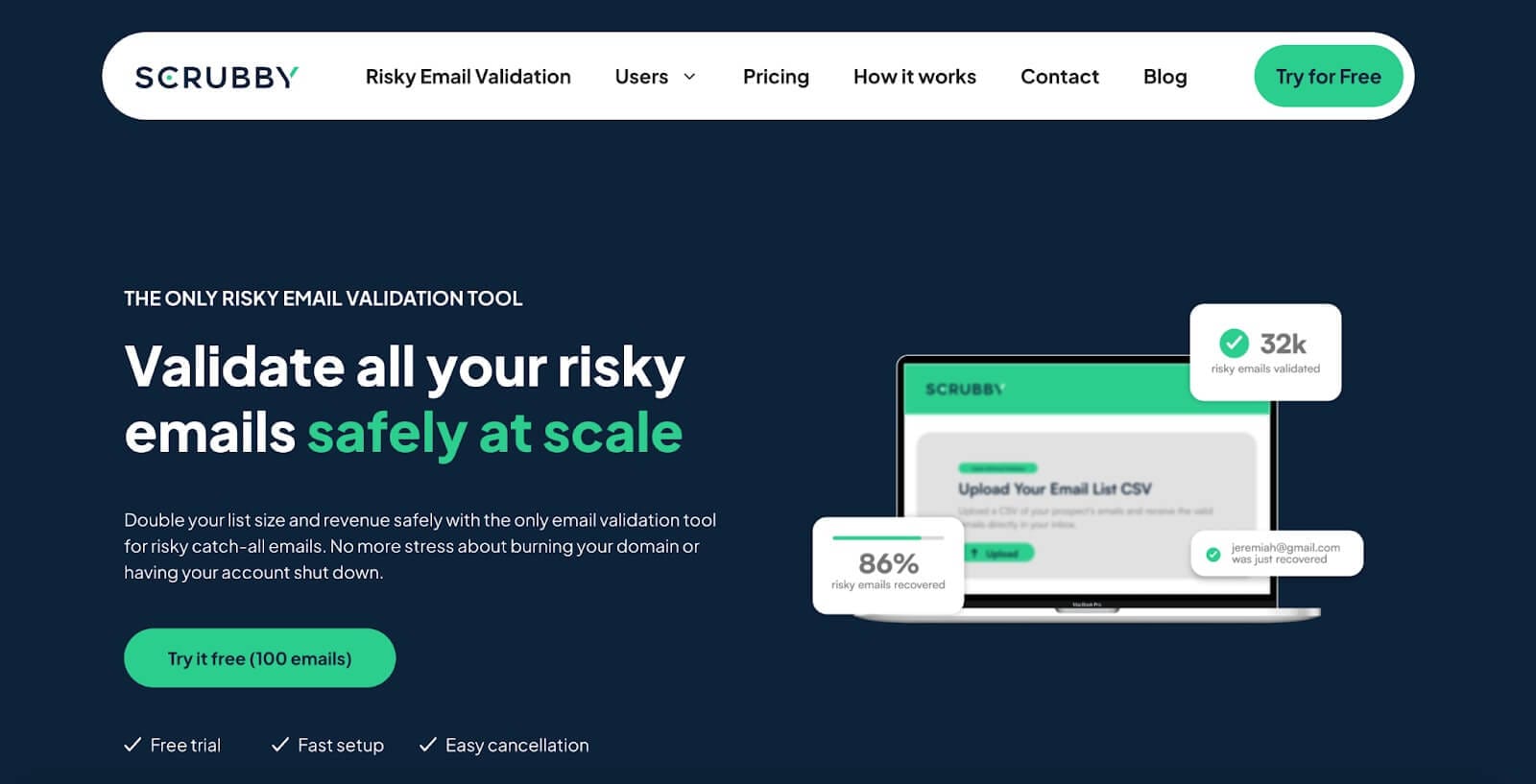 Scrubby's Main Benefits
With a high level of accuracy, Scrubby quickly reveals "Valid", "Invalid", and "Risky" accept-all emails by bringing back these risky emails into your upcoming campaign. With this, you can make sure that no qualified email lead will be dismissed from your list.
Complies with all the major SMTP-based email verification solutions.
Ensures a high deliverability rate and helps your emails reach directly to Inbox.
Offers strong data protection thus complying with GDPR and other data privacy regulations.
Scrubby's intuitive API access enables a high level of compatibility with other email verification and data vendor software making you pay all the attention to reaching your audience effectively.
Scrubby's Key Features
Simple setup process
Beginner-friendly intuitive interface ensuring smooth accessibility for all users, regardless of their coding skills.
Advanced validation technology with a 98.7% accuracy rate
Compliance with GDPR and data privacy regulations
Integrations with popular CRM and Email Marketing platforms
Scrubby API access
Quick validation results delivering a cleaned-up and optimized list within a 48-72 hour timeframe
24/7 customer support services providing assistance with implementation, troubleshooting, and any queries you may have along the way.
Flexible pricing options plus a free trial period with 100 email validation credits
Get good use of 100 free credits upon sign-up. With these credits, you can experience a wide variety of Scrubby's validation features within 7 days.
Small and Medium-sized businesses will highly benefit from Scrubby's "Starter" subscription plan available at an affordable price – $27 per month. This plan includes 1000 credits for email validation.
For corporations and established large enterprises, Scrubby offers up to 1 million email validation credits with the lowest price of 1 cent per credit. Through Scrubby's flexible pricing model, users are free to use both the pre-structured plans and custom solutions according to the company's purposes.
Scrubby's unparalleled pricing flexibility goes beyond expectations enabling users to activate as many credits as they will actually use. This is through Scrubby's Pay as You Go pricing model which does not require any long-term commitment.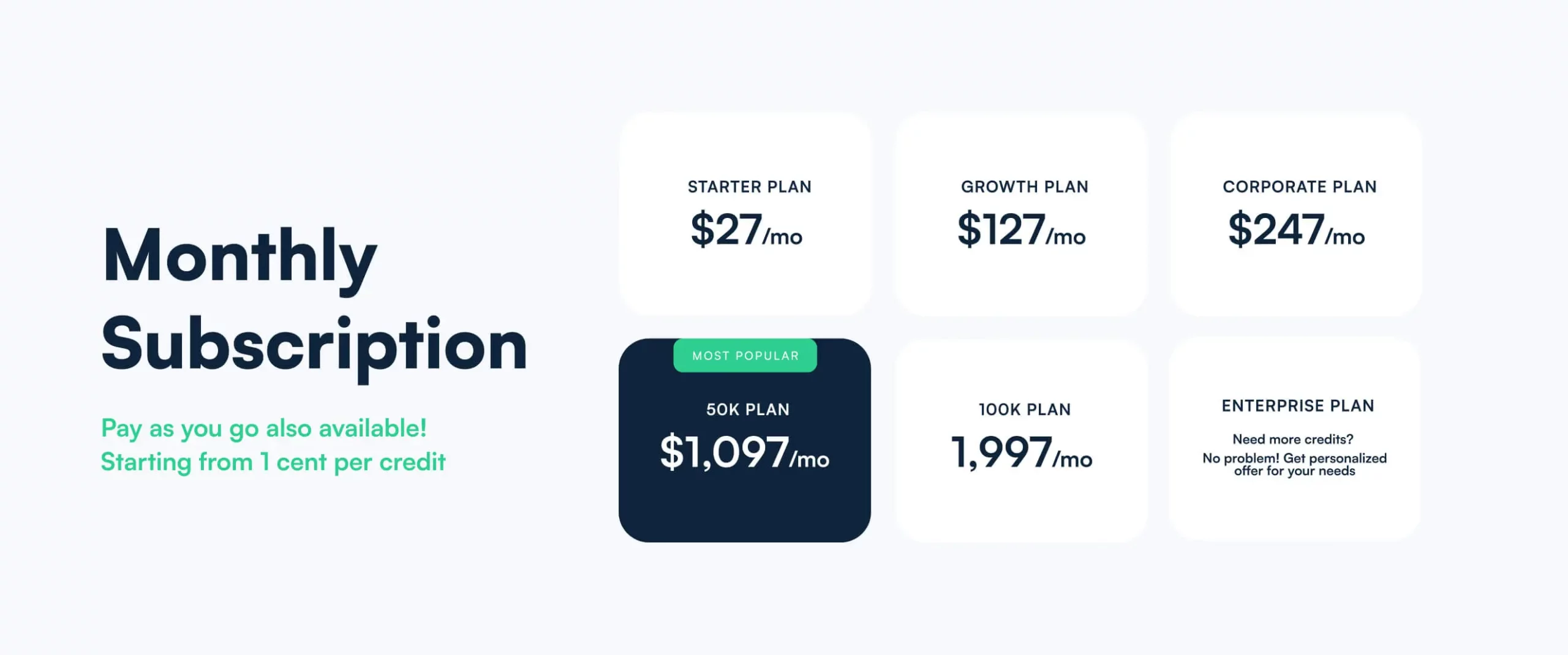 Harmonizing Scrubby and ZoomInfo For Successful Campaigns
The ideal model to get a highly converting Email Marketing campaign is verifying and validating your own or the scraped email list addresses from a 3-rd party data vendor.
So, the integration of Scrubby's email validation capabilities with ZoomInfo's accurate global database with insightful market analytics forms a powerful framework that leads businesses to data resource optimization, streamlined outreach strategies, and proven unparalleled success in their email marketing endeavors. The unified power of these two advanced platforms ensures businesses' delivery of accurate and relevant emails to their intended audience setting the stage for a data-driven holistic approach to client engagement and business growth.