Scrubby and Cognism: Uniting the Skills For Optimized Email Campaigns
Today's marketing strategies heavily lean on the email campaign potency that, in turn, prioritizes the email database and lead list accuracy level. Taking this into account, using a highly precise and valid email list will lead your business to more effective outcomes, as well as strongly protect the company's IP reputation, reducing bounce rates while complying with data privacy regulations to avoid any violations. So, the strategic solution that combines data accuracy and validation will effectively optimize your email campaign thus cultivating ongoing customer relationships and loyalty.
Having this in mind, two market giants – Cognism and Scrubby can efficiently unite their skills to provide highly secure and valid data for B2B operations.
Scrubby and Cognism: Using the Tools in Tandem
To stay competitive in the market you need to heavily lean on your lead data quality and validity. In this case, Cognism and Scrubby are two market giants coming together to present a comprehensive method of prospect optimization, quality email list-building, and enhanced email campaign effectiveness.
At this point, Cognism, being a well-known sales intelligence tool, smoothly collaborates with Scrubby, a popular validation solution to deliver businesses a holistic method of data refinement and outreach strategies. Having an advanced global B2B database and seamless filters, Cognism helps businesses find new business prospects and leverage the data in the B2B operation.
Being an ideal complementation to Cognism, Scrubby ensures accurate and data privacy-compliant valid email lists for your campaigns. Using its 99% validation accuracy, and seamless integrations with CRM and Email Marketing tools, Scrubby essentially increases the deliverability rates while also reducing the email bounces. It does not put away "Risky" and problematic emails, instead, it validates them to enable their further usage in the campaign. By an accurately validated list, users can strictly protect their IP and sender's reputation while making sure that their emails reach the intended audience without appearing in the spam folder.
Cognism and Scrubby together are a great combination to elevate sales and marketing efforts. By leveraging Cognism's advanced lead database and Scrubby's validation expertise businesses can show a more segmented and special approach to customer engagement.
Both tools in tandem provide better sales strategies backed by accurate data, thorough customer insights, smooth workflows, and, accordingly, enhanced conversion rates and persistent growth.
So, the main sequence of using these tools together is as follows:
Leveraging Cognism's advanced B2B database to identify your target lead lists.
Verifying the email lists with one of the famous verification tools, such as NeverBounce, ZeroBounce, MailerVerify, etc.
Validating the list with Scrubby and using it in the email marketing campaign.
To deep-dive into both tools read, what both bring on the table and what are the main benefits:
Cognism is a top-notch sales intelligence tool that is tailored to connect businesses to their target audience elevating marketing campaign outcomes. Over 1800 teams globally trust Cognism due to its advanced suite of features and settings and compliance with major data privacy regulations. Cognism provides a high accuracy level in regard to data quality and privacy thus assisting businesses in building a consistent and result-oriented sales funnel by identifying new growth prospects and opportunities.
This powerful data vendor offers a cutting-edge platform ensuring that all types of users can highly benefit from streamlining data search, filtering, and verification processes. This will significantly save time and effort enabling you to build highly accurate lead data containing your industry-specific contact details. Due to its integrations with famous CRM and Email Marketing Automation tools, Cognism provides a smooth and optimized workflow.
Cognism is a great solution for outreach campaigns enabling to verify email list addresses and mobile phone numbers with up to 98% accuracy level. Cognism helps businesses to directly contact decision-makers and target audiences ensuring better deliverability and smooth connections. However, the first layer validation gives you results as VALID, INVALID, and RISKY, where the last portion is on average 40% and where Scrubby can jump in and result in 2x of your initial result.
Cognism's Main Benefits
Cognism's database is highly reliable as it adheres to the most important global privacy regulations, effectively reduces compliance risks, and is checked against TPS/CTPS, as well as a wide range of European, Australian, and US do-not-call lists.
One of the most important features is buyer intent signals, allowing you to spot potential buyers and catch the moment of immediate engagement with which you can definitely stand out from your competitors.
Users have an opportunity to obtain conversion-ready leads by using advanced filters, such as contact, technographic, firmographic, intent, and sales triggers.
Having in mind the power of personalization in Email Marketing campaigns, Cognism offers seamless messaging personalization to build strong relationships with prospects and target audiences ensuring a loyal customer base.
Cognism's Key Features
98% verification accuracy level
Manually verified mobile phone database (Diamond Data)
GDPR and global privacy laws compliance
Advanced filters for prospects
Integrations with such CRM and Email Marketing tools, as Salesforce, HubSpot, Pipedrive, Dynamics, Bombora, and Zapier
API keys to access Cognism APIs
Buying intent signals
Personalization options
Advanced data filtering
Real-time database updates
Thorough database insights
24/7 dedicated customer support service through email and live chat
Cognism's Pricing
Prioritizing the specific needs of each client, Cognism offers adjustable pricing to fit your business model. This means that all licenses are priced per user. Also, Cognism offers a fee for access to a flat platform delivering quick setup and onboarding, strong data maintenance, and round-the-clock customer service.
Scrubby is a potent email validation tool to deliver an optimized and highly accurate email list by especially focusing on identifying and managing "Risky" email addresses. The tool enables you to safely protect your domain and IP reputation, meanwhile doubling the campaign open and response rates which leads to a higher Return-on-Investment.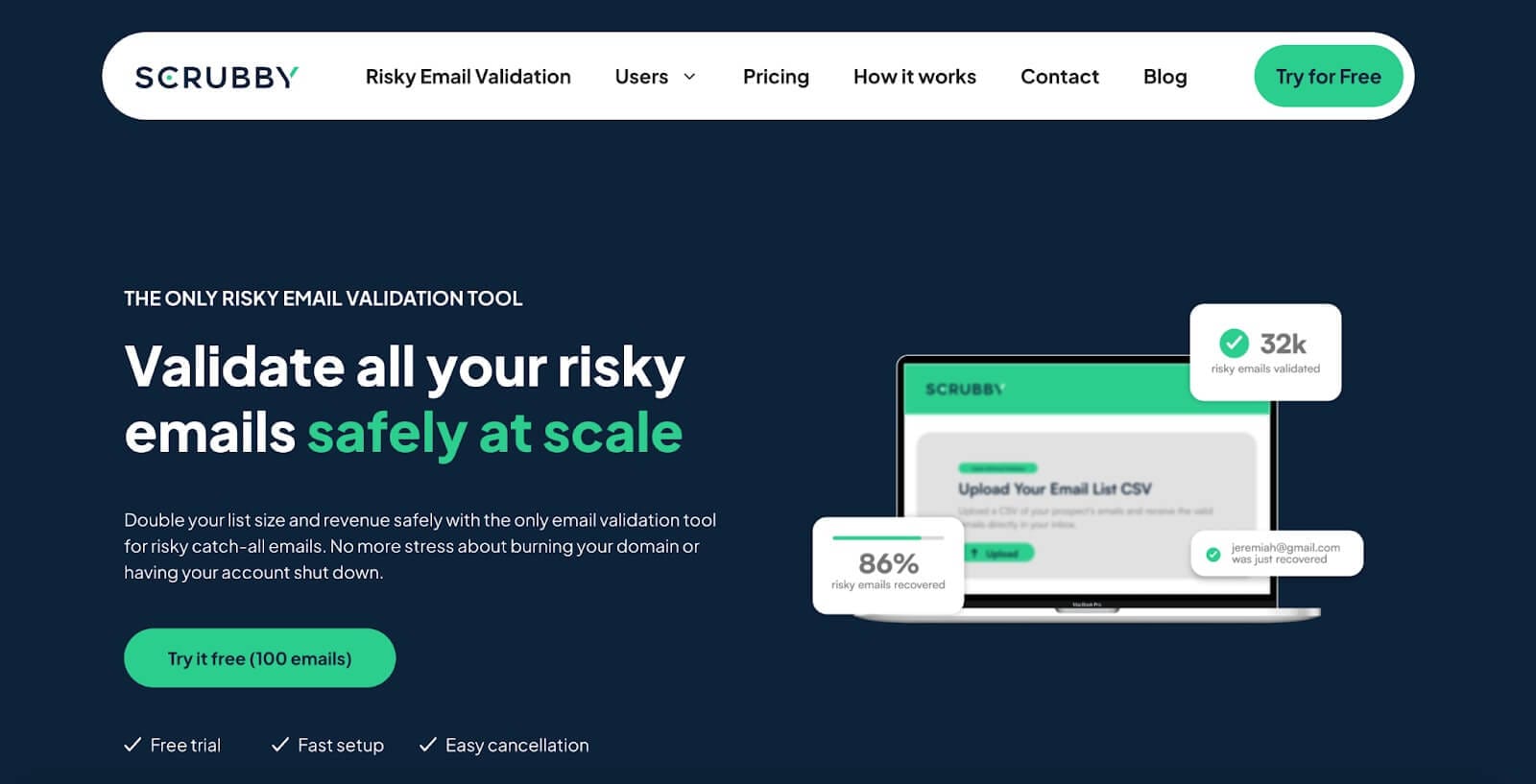 Scrubby's Main Benefits
Scoring up to an absolutely amazing 98% accuracy level in highlighting "Invalid", "Valid", and "Risky" email segments, Scrubby effectively reduces the hard email bounces.
Scrubby smoothly complements almost all the SMTP-based email verification tools, such as NeverBounce, ZeroBounce, etc. thus validating problematic and risky email addresses and enabling their further usage in the campaign.
The sequential process of verification and validation prevents messages from ending up in the Spam folder thus increasing its delivery rates.
Prioritizing data security, Scrubby seamlessly complies with the most popular data privacy regulations, such as GDPR. This, in turn, guarantees the data's confidential integrity.
Its seamless integrations with CRM, Email vendors, and Email Marketing tools are enhanced by the availability of Scrubby API. The users are able to access the API and integrate as many 3-rd party tools as they need.
Scrubby's Key Features
Fast Setup with an Intuitive user-friendly interface
98.7% accuracy level
100 free email validation credits within 7 days
SMTP-based email verification tools compatibility, such as NeverBounce, ZeroBounce, BriteVerify, etc.
Data vendor support, including Cognism, ZoomInfo, Apollo
Seamless software integration with Scrubby API
Persistent data insights and Analysis
Data privacy regulation compliance
24/7 online support through email and live chat
Experience Scrubby with 100 complimentary credits available for all new sign-ups, valid for your first 7 days. Discover the versatility of our platform and how it can streamline your email validation process.Embrace efficiency with our Starter subscription plan, starting at just $27 a month. This plan equips you with 1,000 email validation credits, ideal for small to medium-sized businesses. For larger organizations, our corporate and enterprise tiers offer up to 1 million credits at competitive rates, dropping to as low as 1 cent per credit. Select from our structured plans or reach out to our customer support for a custom solution tailored to your needs.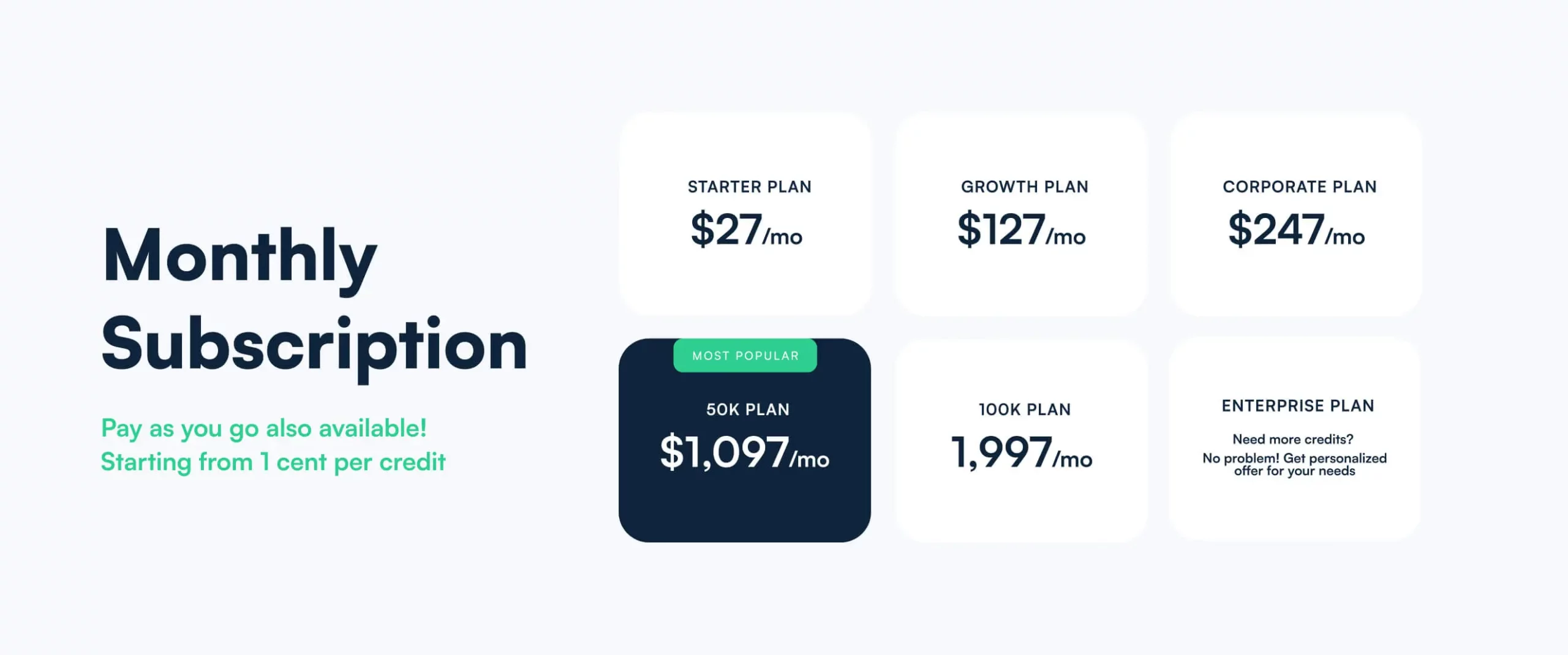 For those whose validation needs fluctuate, our Pay As You Go Model offers the ultimate flexibility—purchase the exact number of credits you require with no additional commitments. Plus, by choosing a monthly subscription, you could save up to 33%, making it a smart choice for consistent savings.
Maximizing Email Marketing Success with Data Vendor and Validation Tools
Using accurate data providers and validation tools should be a starting point for your Email Marketing campaign. To maximize the benefits of your planned strategies, it is essential to leverage the power of trustworthy data sources and validation processes to have clean email lists. This, in turn, will greatly impact:
Better email deliverability
Open rates
Reduced bounce rates
Boosted user engagement
High ROI
The collaborative approach of uniting Cognism with Scrubby will lead your business to reach its target audience and stand out in the competitive digital market.