Image source: Unsplash
Email verification plays a crucial role in maintaining the integrity and effectiveness of email marketing campaigns. Many businesses use NeverBounce to ensure they are capturing valid email contacts.
However, unsatisfactory customer support, high price and low precision of the tool nudge companies to look for NeverBounce alternatives.
In this article, we will compare some of the top email verification tools that can serve as alternatives to NeverBounce. Whether you're looking for more advanced features, cost-effectiveness, user-friendly interfaces, or robust customer support, we've got you covered.
Join us as we delve into the world of email verification tools and help you find the best NeverBounce alternative to suit your needs.
Our criteria for choosing the best NeverBounce alternatives
Image source: Freepik
We have established the following criteria to guide our selection process:
Features and functionality: We checked the ability of NeverBounce competitors to verify email addresses, detect and remove invalid or risky emails, and provide detailed reports on the quality of your email list. We also assessed additional features that enhance the verification process or offer value-added functionalities.
User-friendliness: An email verifier should ensure a smooth experience for novice and experienced users. We looked for platforms that offer intuitive interfaces, easy navigation, and a streamlined verification process.
Cost-effectiveness: We assessed the expenses associated with using each email validator to the value it provides.
Customer support: Reliable customer support can significantly enhance the user experience and promptly address potential issues. We assessed each alternative's level of customer support, such as accessibility and responsiveness. We also checked the availability of support channels like live chat, email, or phone.
Pricing: Transparency and flexibility in pricing are key factors we considered. We evaluated the cost per verification, the availability of flexible payment options, and whether there were any additional charges or hidden fees.
Integration with third-party tools: Integration capabilities with other tools and platforms can significantly improve workflow efficiency. We explored each alternative's integration options, including compatibility with popular third-party tools like marketing automation platforms, CRM systems, and email marketing software.
Current user reviews: We considered feedback and reviews from existing users of each email finder. It helps provide insights into users' real-world experiences, including their satisfaction with the service, the accuracy of the verification results, and overall performance.
Considering these criteria, we created a list of the five best NeverBounce alternatives available.
The best NeverBounce alternatives in 2023
Let's present our carefully curated selection of the best alternatives to NeverBounce that offer excellent features and performance.
1. Scrubby
Scrubby is the ultimate solution to efficiently verify catch-all, accept-all, or risky emails on a large scale. Our specialized email verification software complements SMTP-based tools, providing complete and accurate results.
Scrubby takes a more thorough approach than traditional email validation tools that can only verify a portion of your email list, leaving a significant number categorized as catch-all addresses.
You can first use alternative software to detect catch-all addresses and then import your recipient list into Scrubby. Our software helps you confirm the existence of these addresses by sending test emails.
Scrubby uses burner accounts, temporary email accounts explicitly created for testing purposes, to collect real-time data on the validity of catch-all addresses.
By employing this method, Scrubby ensures the reliability and accuracy of the results. The comprehensive verification process includes a waiting period of 24-72 hours before delivering the verified email list, allowing for any potential bounces within two days after sending.
With Scrubby, you can expect an impressive accuracy rate of 98.7% in detecting hard bounces or undeliverable emails rejected by the recipient's server.
Our system undergoes meticulous checks to ensure that the email lists provided are highly accurate and reliable for your sales and marketing purposes.
Say goodbye to wasted efforts on ineffective email campaigns and maximize your outreach potential.
Register today and get 100 free credits!
User rating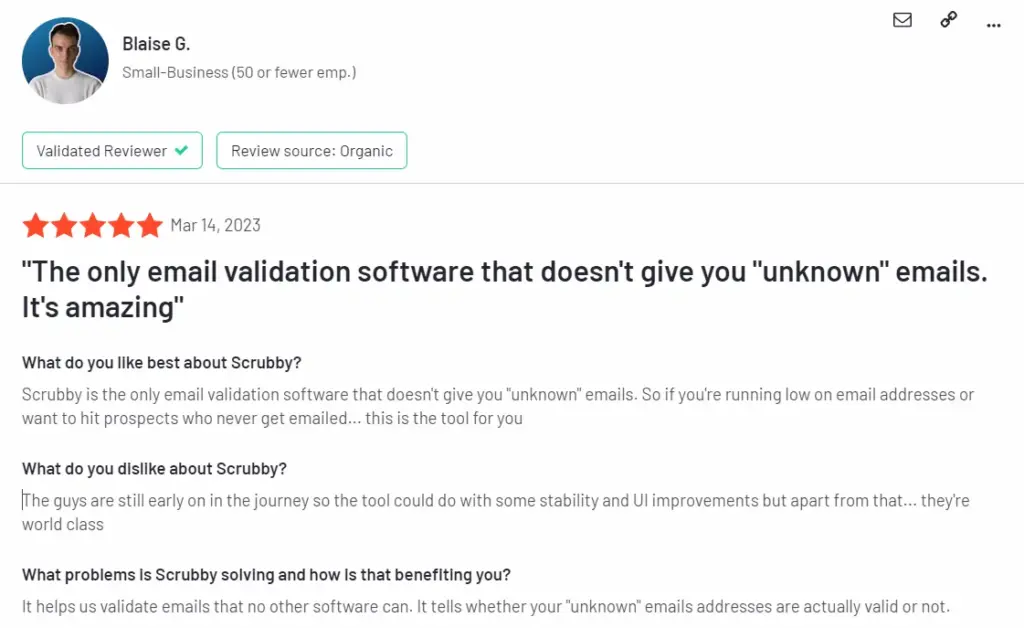 Image source: G2
Capterra rated Scrubby 5.0 out of 5 based on three user reviews.
Features list
Here are some standalone Scrubby features to consider:
Saves time and effort when verifying a large number of email addresses
Ensures a higher quality lead list by improving the accuracy of email verification
Provides reliable and precise results for all email addresses
Increases the effectiveness of your email campaigns by reaching valid recipients
Keeps you informed about the current status of the email addresses in your list
Guarantees a highly accurate email list by allowing time for any potential bounces
Helps you understand and improve your email deliverability by identifying high bounce rates
Provides you with reliable email lists for your sales and marketing purposes
Register today and get 100 free credits to test our software.
Integrations
You can integrate Scrubby with Outreach, HubSpot, Salesloft, and thousands of apps through Zapier. Scrubby also provides the API, which allows you to easily integrate and interact with its functionalities, enabling seamless automation and efficient data management in a user-friendly manner.
Customer support
Live chat
Email
Contact form
FAQ
Blog
Pricing
Scrubby offers a seven-day free trial and 100 credits. Our Growth Plan provides you with 2,500 credits for $97 a month.
If you don't use all the credits in a given month, they don't expire but roll over to the next month.
In case you need more credits, we've got you covered. Here's what you'll get when using our service:
1,000 credits for $40
5,000 credits for $175
50,000 credits for $1,625
100,000 credits for $3,000
500,000 credits for $12,500
1,000,000 credits for $20,000
10,000,000 credits for $150,000
Register today to see how well Scrubby works at validating email addresses.
Pros
With API access, you can seamlessly integrate Scrubby into your existing systems or applications, enabling an automated email verification process
The user-friendly interface makes it easy for technical and non-technical users to navigate and use the tool effectively, saving time and effort
Our product comes with an all-in-one pricing package, which means you can access all the features and functionalities without additional costs or hidden fees
Scrubby stands out by offering the unique capability to validate risky emails, ensuring the accuracy and reliability of your email communications
Our knowledgeable and helpful support team will promptly address any issues or concerns you might have
Cons
Although it may come at a higher cost compared to other SMTP-based validation tools, Scrubby provides value for money
Final validations might come after three days
2. Bouncer
Image source: Capterra
Bouncer is an email verification and deliverability platform designed to help businesses verify and validate recipients' addresses across campaigns. It protects the sender's reputation, decreases the bounce rate, and improves deliverability.
Bouncer determines whether your email list includes harmful email addresses, such as widely distributed or compromised ones, or those associated with complainants, litigators, or potential spam traps.
User rating
Capterra rated Bouncer 4.8 out of 5 based on 142 user reviews.
Features list
A/B testing
API access
Bounce rate analysis
Email deliverability check
Account-based marketing tools
Email marketing tools
Conversion rate optimization tools
Integrations
Bouncer software integrates with various applications associated with CRM, sales, marketing, and productivity, including:
AWeber
GetResponse
Hubspot
Klavyio
Mailchimp
Moosend
Customer support
You can reach the Bouncer support team via chat, email, or video call. It also offers webinars and comprehensive documentation.
Pricing
Bouncer provides the initial 100 credits at no cost, and subsequently, there is a tiered pay-as-you-go pricing structure with eight levels, commencing at $0.007 for every 1,000 credits. The examples of pay-as-you-go rates are as follows:
5,000 – 9,000 credits cost $0.0060 per 1,000 credits
50,000 – 99,000 credits cost $0.0040 per 1,000 credits
250,000 – 499,000 credits cost $0.0025 per 1,000 credits
Bouncer also offers four monthly plans for email verification:
Apprentice including 10,000 email verifications for $40/month
Adept including 50,000-250,000 email verifications for $150-500 a month
Master including 500,000 email verifications for $750 a month
Custom including 1,000,000 email verifications for custom pricing
Pros
Low bounce rates
Personalized and responsive customer support
Cons
The results were not entirely accurate compared to the manual approach of sending emails and manually monitoring bouncebacks.
It uses vague descriptions of emails, e.g. risky vs undeliverable
3. DeBounce
Image source: Capterra
DeBounce is an email verification and validation service. It helps individuals and businesses clean email lists to improve deliverability and reduce bounce rates.
DeBounce checks each email address in a list for validity, detects and removes any invalid or inactive addresses, and provides detailed reports on the quality of the email list.
Using DeBounce, users can ensure their email campaigns reach genuine recipients and avoid sending messages to problematic or potentially harmful email addresses.
User rating
Capterra rated DeBounce 4.7 out of 5 based on 193 user reviews.
Features list
Bulk email validation
Single email verification
API access
WordPress plugin
Java script widget
Anti-spam
Bounce rate analysis
AB testing
Integrations
Debounce offers several integrations with various tools and platforms, including
Zapier
Mailchimp
WordPress
ActiveCampaign
Customer support
DeBounce offers various customer support options to its users, including
Email
Help desk
Blog
FAQ
API documentation
Glossary
Pricing
DeBounce offers a pay-as-you-go pricing plan, allowing users to purchase email verification credits as needed without any monthly commitments.
The pricing is based on the number of email verification credits purchased, with a lower per-credit rate for larger volumes. Here are some example rates:
5,000 verifications for $10 ($ 0.002 per verification)
100,000 verifications for $90 ($ 0.0009 per verification)
5 million verifications for $1500 ($0.0003 per verification)
Pros
Clean and straightforward interface
Good validation rules
Cons
The API functions are very limited
No phone support, even for paid customers
4. BriteVerify
Image source: Software Advice
BriteVerify is an email verification and validation service that helps individuals and businesses improve the quality of their email lists. 
It offers a range of features and tools to verify and validate email addresses, ensuring that email communications reach valid recipients and reducing the risk of bounces, spam complaints, and deliverability issues.
User rating
Capterra rated BriteVerify 4.4 out of 5 based on 16 user reviews.
Features list
Email verification API

Bulk-verification

Real-time email verification

Drag-and-drop interface

Anti-greylisting technology

Domain confirmation

Syntax eliminator

Selectable download options

WordPress plugin
Integrations
BriteVerify integrates with Zapier, allowing users to connect their email verification software with other apps and automate their workflows.
Customer support
BriteVerify offers various customer support options to its users, including:
Contact form

Phone support

Help center

Blog

Podcasts

Webinars

Demos
Pricing
BriteVerify offers a pay-as-you-go pricing model based on the number of verifications required. Here are some exemplary rates:
5,000 verifications for $40 ($ 0.008 per verification)

30,000 verifications for $210 ($0.007 per verification)

500,000 verifications for $2,250 ($0.0045 per verification)
BriteVerify also offers subscription packages. Details are available upon request.
Pros
Offers several options for adding emails to your list and downloading the results

Provides very detailed list analytics
Cons
Lack of possibility to customize the list verification process

According to some users, the domain verification accuracy is about 80%
5. Mailjet
Image source: Software Advice
Mailjet is a cloud-based email service provider that offers tools and infrastructure for sending and managing email campaigns. It provides a user-friendly platform that allows businesses and individuals to create, send, and track marketing and transactional emails.
User rating
Capterra rated Mailjet 4.3 out of 5 based on 394 user reviews.
Features list
Email marketing campaigns
Transactional email
Email automation
Analytics and reporting
API access
Integrations
Mailjet offers a developer-friendly API for integrating email functionality into custom applications and pre-built integrations with popular tools and platforms like WordPress, Salesforce, and Magento.
Customer support
Pricing
Mailjet offers different pricing plans based on the number of monthly emails businesses want to send. Here are the pricing options available:
Free Plan: It allows businesses to send up to 6,000 monthly emails, with a maximum of 200 emails daily. It includes email marketing tools, transactional emails, online customer support, and segmentation.
Essential Plan: It starts at $15 per month and includes all free plan features, online customer support, removal of the Mailjet logo, 50 email previews per month, email address verifications, and segmentation.
Premium Plan: It costs $25 monthly and includes advanced statistics, marketing automation, dynamic content, and A/B testing.
Custom Plan: Information is available upon request. It includes all premium plan features, a dedicated IP (for 100k+ plans), and blocklist monitoring.
Pros
Clear UI allows designing new campaigns easily
Straightforward list administration
Cons
Email automation is only available to premium users
Very limited campaign editing options, even in paid plans
NeverBounce alternatives: A short overview
Let's briefly overview all the key points we covered about each product.
Tool name
Scrubby
Bouncer
DeBounce
Brite Verify
Mailjet
User rating
5.0
4.8
4.7
4.4
4.3
Best for
Validating risky emails, it's an email verification tool for catch-all emails
Verifying the accuracy and authenticity of email lists
Cleaning email lists
Ensuring high-quality data for a better ROI from sales, marketing, and service
Creating email marketing campaigns
Pros
Verifying risky emails at scale

Great customer support

User-friendly interface

All-in-one pricing package
Low bounce rates

Personalized and responsive customer support
Clean and simple interface

Good validation rules
The tool offers several options for adding emails to your list and downloading the results

It provides a very detailed analytics
Clean UI allows designing new campaigns easily

Straightforward list administration
Cons
More expensive than other SMTP-based validation tools

Final validations typically come after 3-2 days
Unreliable list results
The API functions are very limited

No phone support even for paid customers
Lack of possibility to customize the list verification process

The domain verification accuracy is about 80%
Email automation is only available to premium users

Very limited campaign editing options, even in a paid plans
Pricing starts at
$97 a month
5,000 – 9,000 credits cost $0.0060
$10 for 5,000 verifications
$40 for 5,000 verifications
$15 per month
NeverBounce alternatives: Our verdict

Selecting the right email verification tool is essential for maintaining a clean and reliable email list, improving deliverability rates, and maximizing the effectiveness of your marketing campaigns.
Investing in a trusted NeverBounce alternative ensures your messages reach the right audience, protect your sender's reputation, optimize costs, and drive better engagement and conversions.
Based on our research, Scrubby includes all the critical features mentioned above. We encourage you to start a free trial and use 100 credits to see how well our solution validates risky emails and improves the quality of your lead list.
Sign up for our service today!
FAQs about NeverBounce alternatives
Let's answer the most common questions about NeverBounce alternatives.
How to use NeverBounce for free?
You can access an email checker on the NeverBounce website that allows you to verify up to 10 email addresses free of charge.
Is NeverBounce accurate?
NeverBounce is known to produce results with less than optimal accuracy, which turns off some users.
What is the alternative to email checker net?
Here are some alternatives to Email Checker:
Bouncer
DeBounce
MailerLite
What is NeverBounce used for?
NeverBounce is primarily used for bulk email list cleaning. It validates mail servers and removes duplicate emails and syntax errors. It even checks if domains are live and whether or not certain emails have been blacklisted.
What is an email verification tool?
An email verification tool is software that removes inactive and invalid emails from an email list. It helps organizations identify whether email addresses are good or bad without sending an email.
Email verification tools that rely on SMTP are only partially reliable when confirming the existence of a mailbox on a catch-all email server. Though they can verify if a domain is active, they cannot guarantee that the email address linked to it is valid and active.
These tools usually classify around 42% of emails as risky. Such emails have a higher probability of causing hard bounces, indicating you can't successfully send your email to the recipient's inbox.
Scrubby, on the other hand, is an exceptional email verification software that exceeds SMTP-based tools' limitations. Its unique feature allows it to validate risky emails with a 98.7% accuracy rate, differentiating it from other email verification tools.
Scrubby can significantly improve your email deliverability. It helps you reach your intended audience more effectively and protects your sender's reputation by reducing the number of failed delivery attempts.
Ensure your subscriber list is clean by creating a free account today.
Why is email validation essential for email marketing campaigns?
Email validation is essential for email marketing campaigns for the following reasons:
Improved deliverability: Validating email addresses helps ensure your emails reach the intended recipients' inboxes
Cost efficiency: Email validation saves costs by optimizing your marketing budget
Maintaining sender reputation: Validating your email list ensures that you send messages to legitimate recipients, reducing the risk of being marked as spam and maintaining a positive sender reputation
Scrubby ticks all the boxes and stands out as the only email verification software capable of validating high-risk emails with an impressive accuracy rate of 98.7%.
It eliminates non-existent or incorrectly spelled email addresses, reducing bounce rates and safeguarding your IP reputation.
By employing burner accounts, Scrubby efficiently examines your lead list in real-time and sends you results in up to 72 hours to allow for potential bounces.
Say goodbye to fake and misspelled emails. Validate your leads with Scrubby and enhance your email marketing efforts. Start a free trial and get 100 credits now!