Image source: Capterra
Looking for accurate contact details can be a tiresome and lengthy process. Although many people still rely on Hunter, an email finder tool for discovering and verifying professional email addresses, it's essential to remember that every software has limitations.
Whether you're a sales professional, marketer, or recruiter, relying solely on a single lead generation tool can be ineffective due to outdated data, limited coverage, and accuracy concerns.
Recognizing the demand for reliable Hunter alternatives, we have compiled a carefully curated list of powerful tools that complement or surpass Hunter in providing accurate and up-to-date contact information.
In this article, we will delve deeper into their unique features, pricing plans, and user experiences. By doing so, we aim to assist you in finding the perfect fit for your business needs.
Let's explore Hunter.io alternatives to help you discover and connect with crucial people for your business faster.
Our criteria for choosing the best Hunter alternatives
Image source: Freepik
Before diving into the Hunter alternatives, let's establish the criteria we used to evaluate them. We considered the following factors:
Features and functionality: We examined the core features and functionalities offered by each alternative, such as email verification, lead enrichment, advanced search filters and data accuracy.
User-friendliness: We assessed the ease of use and user interface to ensure they are accessible to users of all skill levels.
Cost-effectiveness: We analyzed the pricing plans and compared them to the value provided by each alternative to determine their cost-effectiveness.
Customer support: We evaluated the level of customer support offered, including response time, availability, and helpfulness.
Pricing: We considered the pricing structure, including any free plans, trial periods, and the overall value of the investment.
Integration with third-party tools: We investigated the compatibility and integration options with other commonly used apps and platforms.
Current user reviews: We gathered feedback from existing users to understand their experiences, satisfaction levels, and potential drawbacks.
By considering these factors, we hope to assist you in making a well-informed decision about the best Hunter alternatives that align with the sales and marketing teams' specific requirements and priorities.
The best Hunter alternatives in 2023
If you want better data accuracy, broader coverage, or more advanced features, evaluate the Hunter alternatives we tested and verified their results.
1. Scrubby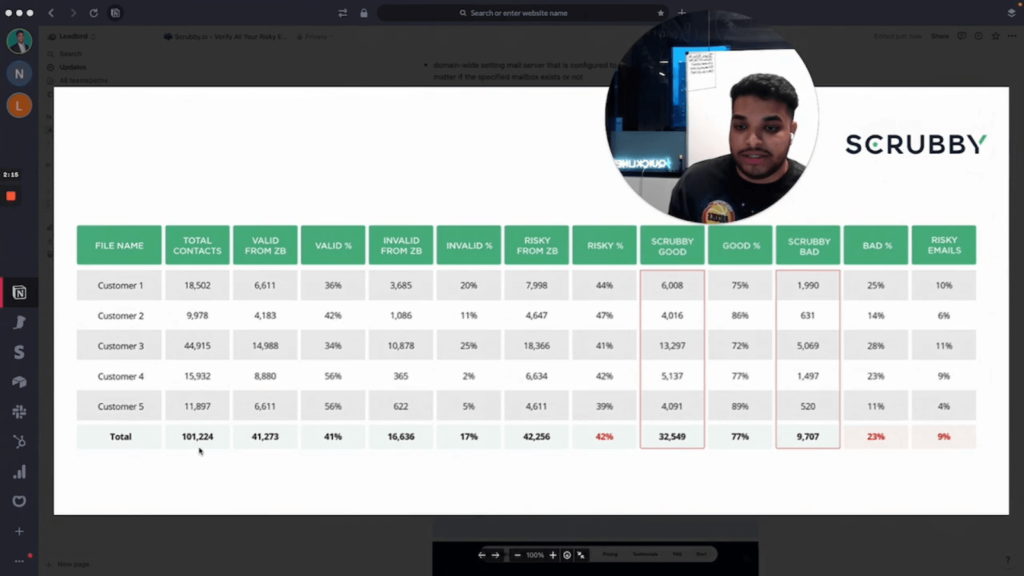 Are you tired of wasting time and resources on outdated email verification tools that leave you with poor-quality lead lists? Look no further because Scrubby is here to revolutionize your outreach campaigns.
Scrubby offers an email verification feature that works alongside other SMTP-based email validation tools. It focuses on large-scale verification of catch-all, accept-all, or risky emails.
SMTP-based email validation tools are limited in verifying email addresses, with a 40-60% success rate. These tools can only categorize emails as valid or invalid, leaving the remaining emails as catch-alls.
You can use these tools to identify catch-all addresses, then let Scrubby take over and work its magic. Our innovative approach harnesses the power of burner accounts, temporary email addresses created specifically for testing purposes. Scrubby sends emails to your recipients' addresses, gathering real-time data on their validity.
We then wait 24-72 hours to provide results. This waiting period is crucial because some emails may bounce back even after two days.
Brace yourself for a staggering 98.7% accuracy in detecting hard bounces and undeliverable emails rejected by the recipient's server. Say goodbye to wasted efforts and hello to laser-targeted email campaigns.
Imagine the possibilities with a highly accurate and reliable email list at your fingertips. Scrubby empowers your marketing and communication campaigns, allowing you to connect with your audience like never before.
But that's not all! Register today and claim your 100 free credits.
Experience the Scrubby advantage firsthand and take your email verification to new heights.
User rating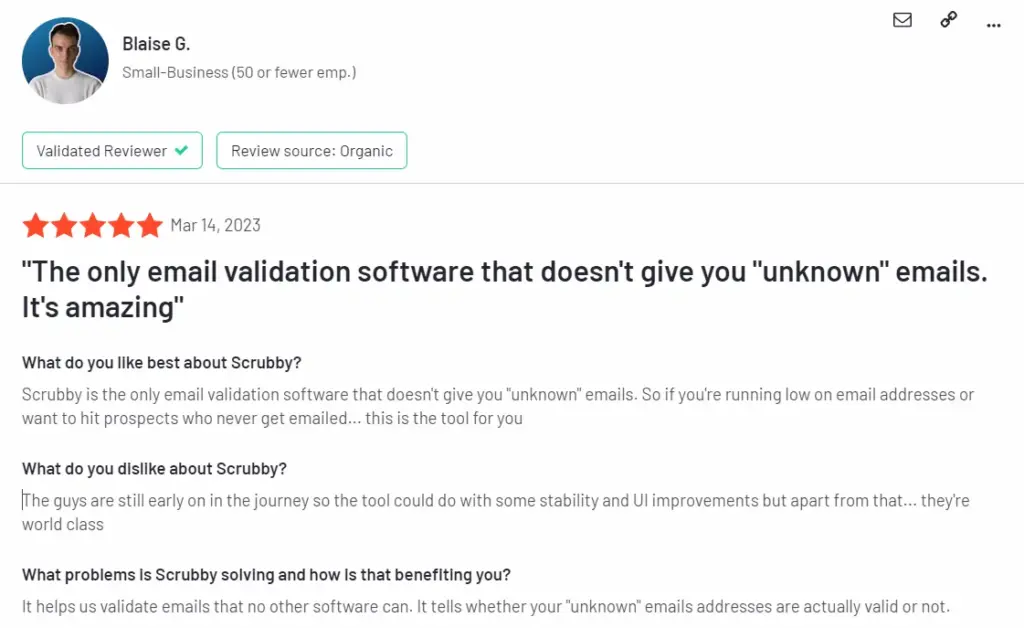 Image source: G2
Scrubby scores 5.0 out of 5 stars on G2.
Features list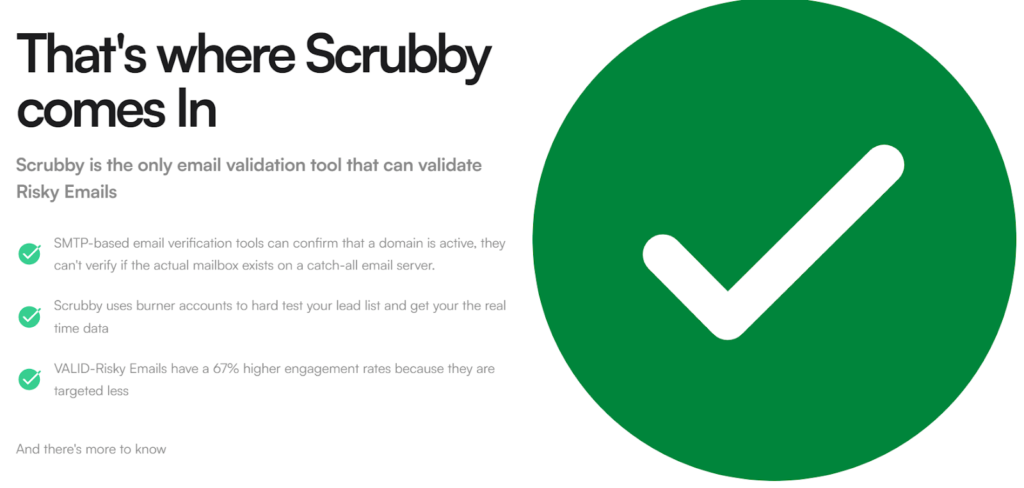 Here's what Scrubby can do for you:
Large-scale verification: Efficiency and effectiveness go hand in hand when processing large volumes of email addresses. Scrubby is tailor-made for the task, ensuring you can easily handle any list size.
Improved lead list quality: Why settle for mediocrity when you can boost your lead list quality? Scrubby outperforms the competition by delivering unparalleled results. Say goodbye to inaccuracies and hello to a list that truly reflects your target audience.
Enhanced verification capability: Scrubby's advanced verification capabilities leave no stone unturned. Every email address undergoes a meticulous examination, providing accurate results you can rely on. No more wasted efforts or missed opportunities.
Email testing: Don't leave your communication efforts to chance. Scrubby's email testing feature verifies the very existence of email addresses, ensuring your messages reach valid recipients. Feel the confidence that comes from precise targeting and personalized communication.
Real-time data gathering: Stay ahead of the curve with Scrubby's real-time data gathering. Our system constantly updates, giving you up-to-the-minute information on the status of your email addresses. React swiftly, adapt dynamically, and seize every opportunity.
Accuracy assurance: We understand the value of precision. That's why Scrubby takes the necessary time, waiting 24-72 hours before delivering your verified email list. Our accuracy commitment ensures you receive the most reliable and up-to-date information available.
High bounce detection rate: Discover invaluable insights into your email deliverability with Scrubby's high bounce detection rate. Identify problematic addresses, fine-tune your campaigns, and achieve unmatched success.
Reliable email lists: Forget the frustration of dealing with invalid or undeliverable email addresses. Scrubby separates the wheat from the chaff, providing highly reliable email lists. Communicate with confidence, knowing your messages are reaching their intended recipients.
Supercharge your sales process today and witness the transformative impact on your marketing efforts. The future of effective communication is within your grasp.
Register today and claim your 100 free credits.
Integrations
You can integrate Scrubby with Outreach, HubSpot, Salesloft, and thousands of apps through Zapier.
Customer support
If you have any questions, you can contact our customer support team via email.
Pricing
Experience the true potential of our email verification service with Scrubby's enticing offer: a free seven-day trial and 100 credits.
When ready, you can sign up for the Growth plan, which includes 2,500 credits for just $97 monthly.
We understand the importance of flexibility. Rest assured; any unused credits won't go to waste. They automatically roll over to the following month, allowing you to maximize your investment and utilize every resource effectively.
If you need additional credits, we offer a range of options to suit your requirements:
1,000 credits for $40
5,000 credits for $175
50,000 credits for $1,625
100,000 credits for $3,000
500,000 credits for $12,500
1,000,000 credits for $20,000
10,000,000 credits for $150,000
Embrace Scrubby's risk-free trial, upgrade to the Growth plan, and unlock unlimited possibilities.
Register today and get 100 free credits!
Pros
Specializes in email verification
The only solution that can validate risky emails
Offers bulk email verification
Real-time API access
Integration with popular tools
User-friendly interface
All-in-one pricing package
Great customer support
Cons
This tool is pricier than other options that use SMTP for validation
It takes 2-3 days to receive the final validations
2. Anymail finder
Image source: Capterra
Anymail finder is a reliable email discovery tool designed specifically for businesses that value authentic and verified email addresses.
Using a combination of real-time web scraping and external services, Anymail finder effectively discovers emails. To ensure the validity of each email, they go a step further by verifying them with the respective receiving servers.
To prioritize customer satisfaction, Anymail finder adopts a fair pricing approach. They only charge for emails that have undergone comprehensive testing and have a delivery rate of 97% or higher.
As a user, you can upload a file at no cost, and the system will inform you of the number of verified emails it can retrieve. If you are pleased with the number of emails discovered, you can pay and download the enhanced file.
User rating
Anymail finder scores 3.4 out of 5 on G2.
Features list
Person email lookup: Discover email addresses by providing personal, company, or domain names
Company email finder: Locate email addresses associated with a company by entering either the company name or website
Decision-maker email search: Retrieve the email addresses of key decision-makers within a company. Input the company name, domain, and desired job title or department
Create targeted email lists: Enhance your collection of companies or individuals, or create a new list from scratch
LinkedIn email discovery: Extract email addresses from LinkedIn using Chrome Extension
Email finder API: Boost your applications and services by integrating the email lookup feature
Integrations
Anymail finder integrates with Zapier and provides API access to the complete database, validator and email guesser.
Customer Support
In case of any concerns, questions or issues, you can visit the help center, send an email, contact support by phone and chat or check the incident status.
Pricing
7-day free trial
33% discount for annual payments
The pricing depends on the number of verified emails per month
The lowest tier starts at $14/month for 50 verified emails and the highest tier goes up to $299/month for 30,000 verified emails
A custom quote is available
Pros
Accurate email search and verification
Bulk email verification option
Integration with popular CRM platforms
Chrome extension for easy access
Cons
Higher pricing compared to other solutions
Limited features
3. RocketReach
Image source: Capterra
RocketReach is a sales intelligence platform that enables your sales teams to establish connections with individuals by leveraging a precise database of email addresses and phone numbers.
Using advanced machine learning techniques, RocketReach analyzes thousands of publicly available data points to uncover verified email addresses, phone numbers, and social media profiles. Its database includes over 700 million professionals across 35 million global companies.
With RocketReach, you gain access to unlimited searches and the ability to include unlimited team members.
User rating
RocketReach scores 4.5 out of 5 stars on G2.
Features list
Enhanced search capability: Use a repository of 700 million profiles and 35 million businesses with comprehensive information such as location, title, industry, contact data, and company data
Browser extension: Expand prospecting opportunities by exploring popular social media platforms and uncovering company connections directly from any website
Efficient bulk lookups: Download extensive lists of prospects that precisely match your specific targeting criteria
API integration: Harness search functionalities, company insights, and profile data to enhance your apps and services
Data export: Transfer your data in CSV format
Integrations
RocketReach integrates with CRM or marketing automation platforms like Hubspot and Salesforce through Zapier.
Customer support
You can visit the help center or start a live chat on the official website if you need assistance.
Pricing
A free trial to test the service
The pricing depends on the number of lookups
The lowest plan starts at $53 per month for 125 lookups, while the highest costs $269 per month for 833 lookups
You can contact the sales team for the Enterprise plan
Pros
Comprehensive contact information database
Advanced search filters for precise results
Integration with popular CRM and email platforms
Team collaboration features
Cons
Higher pricing compared to some alternatives
Limited customer support availability
4. LeadFuze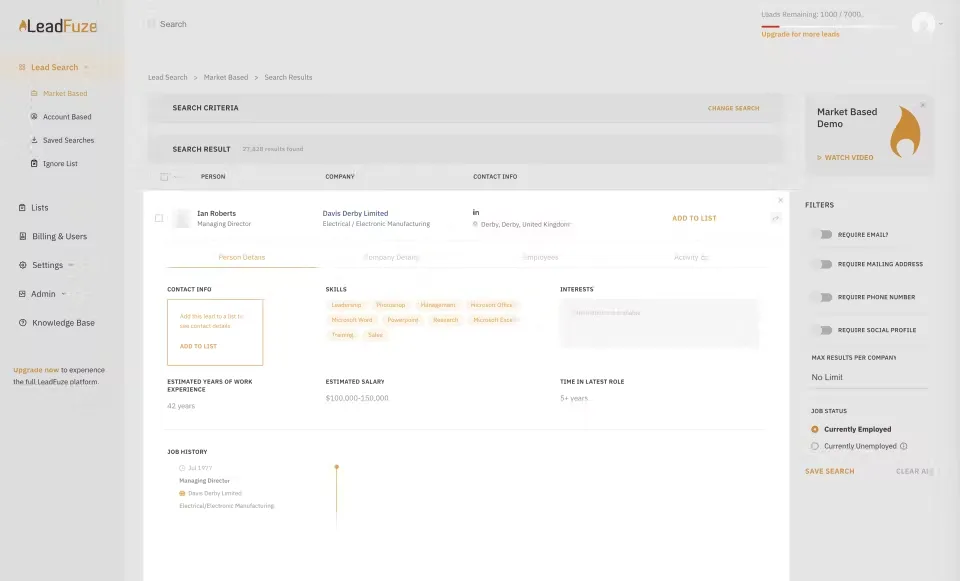 Image source: Capterra
LeadFuze is software for marketing, recruiting and sales professionals, providing automated lead generation capabilities. It lets you get accurate contact information such as emails, phone numbers, and social profiles.
With LeadFuze, your leads are thoroughly cleansed and validated in real-time. It aggregates, matches, and verifies information from a vast network of over 500 million individuals.
It assists you in sales prospecting and sales operations, facilitates effective sales pipeline management, aids in email marketing campaigns, and much more.
User rating
LeadFuze scores 4.6 out of 5 stars on G2.
Features list
Account-based search: Discover contact information for specific individuals such as HR leaders, Hubspot marketers, Amazon engineers, and many more
Ignore list creation: Exclude your existing contacts, competitors, or customers from your lists, ensuring focus on new prospects
De-duplication: Prevent the inclusion of leads you or other team members have already added, avoiding redundancy and optimizing your efforts
Verification: Benefit from real-time, double-verified emails that guarantee a 0% bounce rate, ensuring the accuracy and deliverability of your outreach
List building: Let Fuzebot build your lists by automatically identifying and adding new leads that align with your criteria. Synchronize these leads with CRM systems and outreach tools
API access: Utilize the complete database through API, enabling integration with your apps
Integrations
You can integrate LeadFuze with various CRM and ATS tools. It also supports Zappier integration.
Customer support
LeadFuze provides a user guide. You can also contact the company by email.
Pricing
There is a free trial
You can also ask for a demo
The Scaling plan starts at $147/month for 500 lead credits, while the Unlimited plan starts at $397/month for unlimited lead credits
You can ask for a custom quote
Pros
Advanced lead generation and prospecting features
Integration with popular CRM platforms
Customizable lead scoring
Targeted search criteria
Cons
Relatively higher pricing compared to other alternatives
Mixed user reviews regarding data accuracy
5. Wiza
Image source: Capterra
Wiza enhances your prospecting efforts on LinkedIn.
You can use it as a sales intelligence tool and create targeted prospect lists by exporting leads directly from LinkedIn with accurate email addresses and phone numbers.
Whether reaching out to potential clients or conducting recruitment campaigns, Wiza provides the tools to connect with your audience effectively.
It ensures that the data provided is both reliable and up-to-date. By sourcing and validating information in real-time, Wiza maintains low bounce rates and offers precise prospect details you can rely on.
User rating
Wiza scores 4.4 out of 5 stars on G2.
Features list
Realtime data: Access fresh and reliable contact information
Export up to 2,500 leads: Get leads from any LinkedIn Sales Navigator search query or saved list in a single export
Prospect enrichment: Enrich your list with accurate email and phone data, enhancing the depth of information available for each lead
Clean spreadsheet export: Export your leads as a well-organized and clean spreadsheet, ensuring easy integration with your existing workflow
Verified email addresses and phone numbers: Discover verified contact data for your LinkedIn prospects with an accuracy rate of 99%
Built-in prospect and company enrichment: Gather additional information about your leads and their associated companies, enabling more personalized interactions
CRM and marketing platform integration: Send a list of enriched prospects into any CRM or marketing platform you choose, allowing for streamlined lead management and engagement
Integrations
You can integrate Wiza with Hubspot, Salesforce, Pipedrive, Outreach, Salesloft and Zapier.
Customer support
In case of any issues, you can visit the help center or start a live chat on the official website.
Pricing
It provides a free trial
You pay only for verified contact information
The lowest plan starts at $30/user/month for 75 email credits, and the highest plan starts at $100/user/month for 750 email credits
You can ask for a custom package
Pros
LinkedIn profile email extraction for targeted leads
Verify email addresses in bulk
Email outreach automation
Integration with popular CRMs
Cons
Limited features beyond LinkedIn extraction
Pricing may be high for occasional users
Hunter alternatives: A short overview
All of the tools on our list have different values, and none offer the same features for the same price. To highlight their fundamental differences, we'll create a summary.
Software
Key feature
Identifying or validating risky emails
Pros
Cons
Pricing
Scrubby
Email verification tool for catch-all emails
Scrubby is the only solution that can validate risky emails
Verifying all your risky
emails at scale
Pricier than other SMTP-based validation tools, it takes 2-3 days to get the final validations
Provides Growth Plan at $97/month with 2,500 validation credits and credit rollover
Anymail finder
Email finder and verification
Identifying risky emails
Chrome extension for easy access
Limited features compared to other solutions
Starts at $14/month for 50 verified emails
RocketReach
Automated lead generation
Identifying risky emails
Comprehensive contact information database
Limited customer support availability
Starts at $53 per month for 125 lookups
LeadFuze
Automated lead generation
Identifying risky emails
Advanced lead generation and prospecting features
Mixed user reviews regarding data accuracy
Starts at $147/month for 500 lead credits
Wiza
Prospect list building from LinkedIn
Identifying risky emails
LinkedIn profile email extraction for targeted leads
Limited features beyond LinkedIn extraction
Starts at $30/user/month for 75 email credits
Hunter alternatives: Our verdict

If you want to increase your sales and marketing efforts, investing in email verification software is crucial. 

With Scrubby, you can easily manage a large volume of email addresses and improve the quality of your lead list. It ensures that your marketing and communication efforts reach valid and responsive recipients. 

Scrubby's verification process is top-notch, and you can trust that your messages will reach the right audience. By testing emails, Scrubby verifies the existence of email addresses and eliminates wasted communication efforts. 

Real-time data gathering provides up-to-date information on address statuses, which helps you make informed decisions based on the latest insights. Scrubby's accuracy assurance mechanism and high bounce detection rate guarantee reliable and actionable data. 

By identifying and removing invalid or undeliverable email addresses, Scrubby helps you build a reliable and responsive contact list, which optimizes your sales and marketing campaigns for maximum success.

Register today and claim your 100 free credits.