Data is the key to business success in today's highly competitive B2B marketplace. It enables and empowers businesses to survive and thrive amidst global catastrophes like the pandemic. The data provides meaningful insights into customer preferences, market trends, and industry dynamics, enabling B2B companies to practice informed decisions and gain an edge in the market.
There's no doubt that data is the fuel that powers your sales and marketing, the catalyst that ignites your growth, and the key that unlocks your potential. The data must be more accurate, complete, and consistent. Given the amount of data generated daily, you could collect low-quality data. This data can result in suboptimal decision-making, undermining growth.
This is where B2B database platforms like Apollo are helpful.
As one of the leading data intelligence and sales engagement platforms, Apollo provides unrivaled breadth and depth of B2B data with the highest accuracy. Its community-based approach to crowdsourcing data helps you to identify the right customers for your business. You can get direct access to millions of email addresses, among other data.
With around 4.37 billion users globally, email is the key marketing channel. So, building an email list with tools like Apollo is one of the intelligent ways. It provides unparalleled ROI opportunities. However, you need a healthy, valid email list. As email lists frequently change, an email address correct today could be invalid tomorrow. The decay rate of email data is very high. The reasons are many. Thus, email validation tools become vital.
The Need for Email Validation Tools
Most email validation tools will filter your emails into three scenarios: Valid Emails, Accept/Catch All Emails, and Invalid Emails. In most scenarios, only 50% of the emails were valid, while the remaining 50% were either invalids or catch-alls.
Typically, 40-50% of B2B email lists are risky because they are catch-all domains that SMTP-based email validation services like ZeroBounce cannot validate. These emails have almost a 7-25% bounce rate, which can easily damage your domain's deliverability and reputation if you include them in your campaigns. What most marketers do is that they completely exclude them from their campaigns. But wait! That's almost 50% of your lead list.
By not validating your Risky Emails, you're leaving out almost 50% of your lead list.
This is where Scrubby comes in.
Scrubby: The Right Tool for Validating Risky Emails
Scrubby is the only solution that fixes risky emails from catch-all domains by sending emails to the recipients to check if the message bounces. With the help of Scrubby, you can include risky emails in your campaign without taking the risk of them bouncing. Validating Risky Emails has a 67% higher engagement rate because they are less targeted.
SMTP-based email verification tools like ZeroBounce, NeverBounce, BriteVerify, DeBounce, and MillionVerifier will classify the lead list as Catch-All or Accept-All instead of Valid and Invalid. Most data providers such as ZoomInfo, Apollo, or Cognism will either say Risky or Guessed or assigned a low-confidence email validation score (under 90%) to them instead of Verified. The validation tools can only confirm that a domain is active; they can't verify if the mailbox exists on a catch-all email server. On the other hand, Scrubby uses burner accounts to test your lead list hard and get you real-time data. But note that Scrubby is not a substitute for ZeroBounce. It should be used in conjunction with SMTP-based validation tools. Scrubby verifies the catch-all or risky emails from ZeroBounce.
Let us delve deep into the power behind Scrubby and how you can use it effectively to get much higher converting responses from your lead list that you pull from Apollo:
Scrubby Use-Case for Apollo – Verified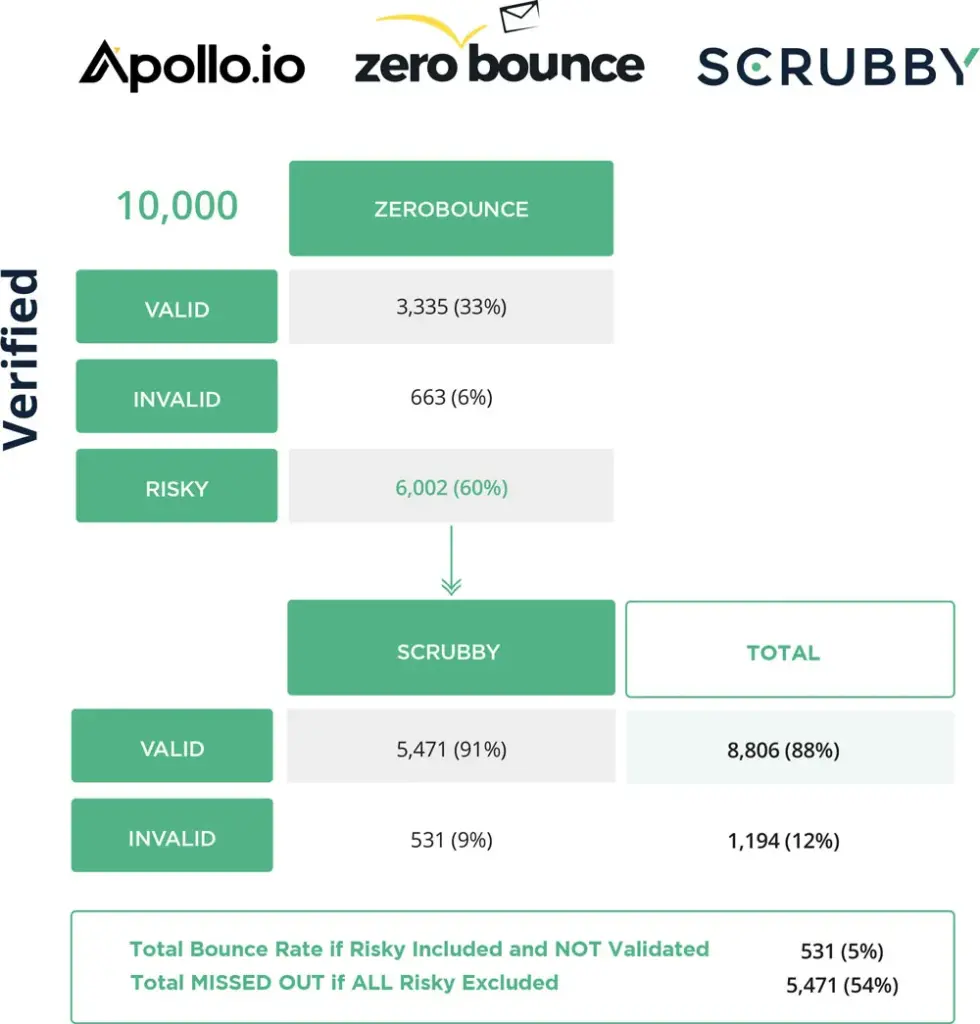 In the first use case, let us consider that you have pulled a list of 10,000 email contacts from the verified section of Apollo. When you run these contacts through SMTP-based email validation tools like ZeroBounce, NeverBounce, ByteVerify, and MillionVerifier, they identify catch-all or risky emails but cannot validate them. And that's where Scrubby is an excellent complement.
When 10,000 verified emails are pushed through ZeroBounce, around 33% (3,335) are turned into valid emails, which is 98% accurate. And 6% (663) came out as invalids. So, the first step here is to dump these invalid emails. If you include them in your campaign, they will bounce on you and impact your domain credibility. On the other hand, 60% (6,002) of the verified emails came back as risky or catch-all emails. But, as Apollo has put these emails in the verified section, there is some higher confidence. The bounce rate on these risky emails will be lower than on invalid ones.
Upon verifying the 6,000 risky emails through Scrubby, it turned out that 91% (5,471) were valid emails. Only 9% (531) of the emails bounced back as invalid. Most marketers don't include risky emails in their campaigns, which is good practice to protect your domains' sender score and reputation. But you miss out on almost 5,471 emails, 54% of your list. On the other hand, if we include the risky emails even without validating them using Scrubby, the bounce rate would be just 5% (531), which is better than missing out on 54% of your lead list.
Using Scrubby, 88% (8,806) of the verified contacts were valid, and 12% (1,194) were invalid. One should exclude these invalid emails to keep the bounce rate close to zero.
Scrubby Use-Case for Apollo – Guessed
While the verified section has a higher confidence score, the guessed section has a lower score. The data providers push the contacts with a lower confidence score into the guessed section.
Now, let us consider that we have pulled 10,000 emails from a guessed section of Apollo. When validated through ZeroBounce, 15% (1,502) returned as valid. While 44% (4,416) were invalid, the risky emails were 41% (4,082).
Though the risky emails in the guessed section (41%) are slightly less than those in the verified section (60%) when they run through Scrubby, the invalid email percentage results are significantly higher. While the valid emails stood at 62% (2,549), the invalid emails stood at a staggering 38% (1,533).
If you had included these risky emails without validating them with Scrubby, you would have received a 15% (1,533) bounce, which is unacceptable. If you had not used Scrubby and dumped all the risky emails, you would have missed 25% (2,549) of your lead list. This 25% of contacts are more responsive than those in the verified section. Around 80% of marketers dump the risky area. So these golden contacts are never targeted. That's where the value of Scrubby becomes very important to the success of your cold email campaigns.
With Scrubby, you can now include good contacts from the guessed section with high confidence and an almost zero bounce rate.
How Does Scrubby Work?
Validating your risky or catch-all emails is as simple as three steps with Scrubby.
Step 1: Once you build your lead list using database providers like Apollo, push it through SMTP-based validation tools like ZeroBounce. Then, ZeroBounce segregates your lead list into valid, Invalids, and Catch-alls. Now, these Catch-all or Risky emails should be pushed through Scrubby.
Step 2: Now, Scrubby sends blank emails at scale to your recipients list to validate your Risky Emails.
Step 3: Within the next 24-72 hours, Scrubby gives you the list back, as some emails can bounce up to 2 days after sending.
Voila! Now you have the real-time data of valid, valid-risky, and invalid emails. And there's no stopping your campaign.