Image source: Freepik
Email marketing is a cost-effective way to promote products and services. According to a survey, around 45% of marketers send weekly emails. However, they need an email verification service like Xverify to secure better email deliverability.
Xverify has advanced features that protect against fraud, remove hard bounces and increase deliverability. It analyzes email addresses to determine which accounts aren't safe and help email marketers avoid potential problems.
However, Xverify isn't the only email verification software in the market. If you're looking for a replacement, there are five Xverify alternatives you can consider.
In this article, we'll explore the top alternatives in depth to help you find the one that fits your needs and budget.
Our criteria for choosing the best Xverify alternatives
We established some criteria to pick the best alternatives to Xverify. We ranked the tools according to the following factors:
Features and functionality – Every email verification software should include features like bulk email verification, spam complaints detector, and high verification accuracy. Having unique features not available with other options is also a desirable trait.
User-friendliness – An intuitive interface makes it easier for digital marketing experts to understand the tool's features without spending too much time learning. It allows them to focus better on their work tasks.
Cost-effectiveness – Businesses must achieve the best results at the lowest cost. Therefore, when selecting a tool, ensuring it provides good value for your budget is essential.
Customer support – Starting on a new platform can be challenging. Fortunately, having a dedicated team to offer technical support and address issues can make the process easier. We have researched the available customer support channels each product offers and evaluated the effectiveness of their representatives.
Pricing – When investing in software, the pricing structure plays a significant role. That's why we've provided you with all the necessary information, including free trials, free plans, and available pricing options, so you can determine if it fits your budget.
Integration with third-party tools – Marketers use different solutions to optimize email marketing campaigns. Integrating tools on our list with your existing systems leads to more efficient workflows, collaboration, and data exchange.
Current user reviews – When deciding, it is helpful to consider the honest feedback real users provide on online review websites. Their reviews cover each solution's positive and negative aspects, offering impartial evaluations of Xverify competitors.
Now that we have shared the key factors we used to select the best Xverify competitors, let's get started with our list.
The best Xverify alternatives in 2023
Let's now explore the best alternatives to Xverify that can help you verify your email lists and improve your marketing campaigns.
1. Scrubby
A clean email list is the foundation of successful email marketing. Scrubby specializes in identifying and validating catch-all, accept-all, and risky emails. By eliminating these problematic addresses from your list, you can improve your email deliverability and enhance your marketing outcomes.
Failing to validate these addresses can lead to a high hard bounce rate, negatively impacting your sender's reputation and overall email performance. With Scrubby, you can ensure your emails reach the intended recipients, boosting the effectiveness of your campaigns and maximizing your return on investment.
Scrubby takes email verification to the next level with real-time testing. When you upload your list of recipients, our advanced system sends test emails on a large scale, collecting valuable information in real time and verifying the legitimacy of each email address.
This thorough validation guarantees that harmful emails are detected and filtered out, leaving you with a clean and trustworthy email list.
Reach your target audience confidently, knowing your messages are delivered to real individuals genuinely interested in your products or services. Increase open rates, click-through rates, and conversions, and watch your business thrive.
Sign up today and get 100 credits for free!
User rating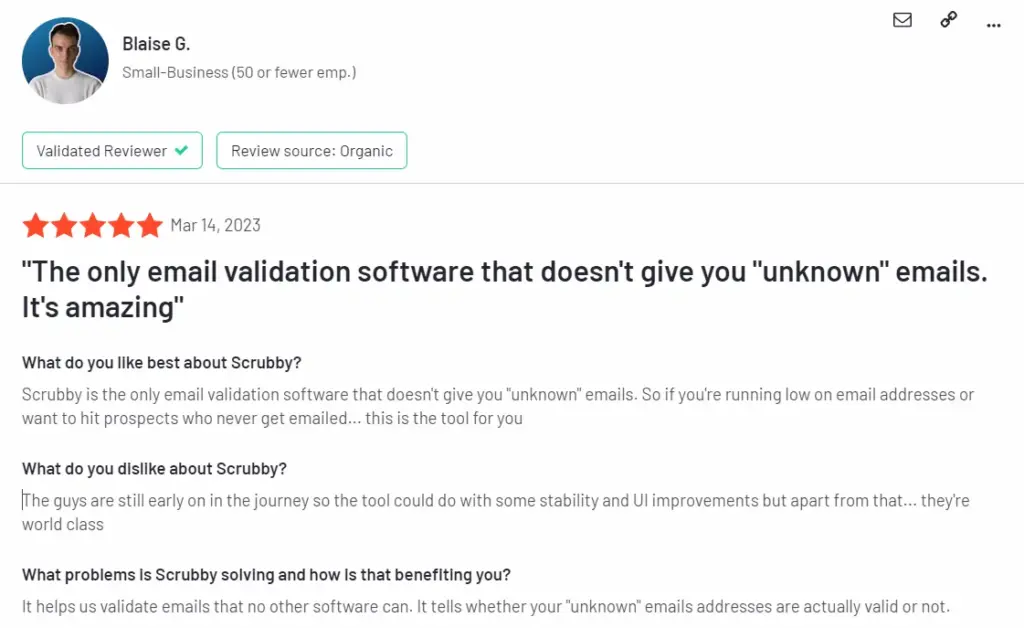 Scrubby has 5 stars out of 5 on G2. Users are happy with fast service, verifying emails at scale and excellent customer support.
Features list
Scrubby is an excellent Xverify alternative due to the following features:
Large-scale email verification for processing a high volume of email addresses
Improved verification capability with accurate and reliable results
Enhanced lead list quality through burner account testing
Email testing to verify the existence of customers' email addresses
Real-time data gathering for up-to-date information
Verified email list delivered within 24-72 hours with 98% accuracy
High bounce detection rate to ensure optimal email deliverability
Reliable email lists by eliminating undeliverable and invalid emails
What makes this tool unique
SMTP-based email verification tools are limited in their ability to confirm the existence of a mailbox on a catch-all email server. However, Scrubby can provide accurate data by utilizing burner accounts to test your lead list. It allows us to determine if a domain is active and if the mailbox is valid.
Integrations
Scrubby provides easy access to the API key within the platform, ensuring a straightforward integration process to take advantage of its advanced email verification functionality. It also provides API documentation.
Customer support
We offer customer support through email and chat channels. Additionally, you can check out our FAQ section to better understand our email verification service.
Pricing
Scrubby offers a free seven-day trial that includes 100 credits. We also offer the Growth plan that costs $97 per month and includes 2,500 credits.
If you need more credits, we have you covered:
1,000 credits for $40
5,000 credits for $175
50,000 credits for $1,625
100,000 credits for $3,000
500,000 credits for $12,500
1,000,000 credits for $20,000
10,000,000 credits for $150,000
All unused credits don't expire. They roll over to the following month.
Pros
User-friendly interface for easy navigation and seamless email validation
API access to integrate Scrubby's powerful features into your existing systems
Excellent customer support to assist you at every step of the process
One pricing plan that includes all features for simplicity and affordability
The only email validation service capable of verifying risky emails
Cons
While there are other tools available that utilize SMTP-based validation and may come at a lower cost, it is important to note that our tool offers unparalleled value and benefits
It provides the final validations after 2-3 days
Create a free account and use 100 credits to explore our platform.
2. KudosHub Email Validation
Image source: GetApp
KudosHub Email Validation is an email verification platform. It helps you remove invalid and disposable email addresses.
With its email scrubbing API, this Xverify alternative eliminates duplicate emails and spam traps. You can go through an email list using syntax check, SpamTrap Removal and email deduplication.
All you need to do is embed the KudosHub Email Validation widget on your website. The widget then automatically blocks invalid emails while customers try to submit them through your contact form.
KudosHub has tools that remove all bounced emails to ensure you have a polished and updated account. It also runs risk scans with the highest accuracy to detect risky keywords.
The dashboard provides all business data in a centralized location. You can use it to upload new lists, download reports or check the status of the verification process.
User rating
GetApp rates KudosHub Email validation with 5 out of 5 stars. They praise its customer support and interface the most.
Features list
Syntax check eliminates emails with invalid syntax
Toxic domain detection identifies email addresses with the toxic and disposable domain
Free deduplication removes all duplicate emails
SpamTrap removal eliminates spam traps to increase your sender's reputation
What makes this tool unique
This email verification service stands out with its Email Validator API. It determines the quality of your email addresses and breaks down bulk and single requests.
Integrations
KudosHub Email Validation integrates with popular email marketing and digital marketing automation platforms such as Mailchimp, HubSpot and AWeber.
Customer support
You can contact the team via email and phone.
Pricing
The price depends on the number of emails you want to verify. It starts at $8 for 2,000 email addresses.
Pros
Good customer support
Cost-effective solution
Simple interface
A range of email verification tools like syntax check and SpamTrap removal
Cons
Email Validator API needs better documentation
Sometimes invalid emails slip through, which decreases email deliverability
3. EmailOversight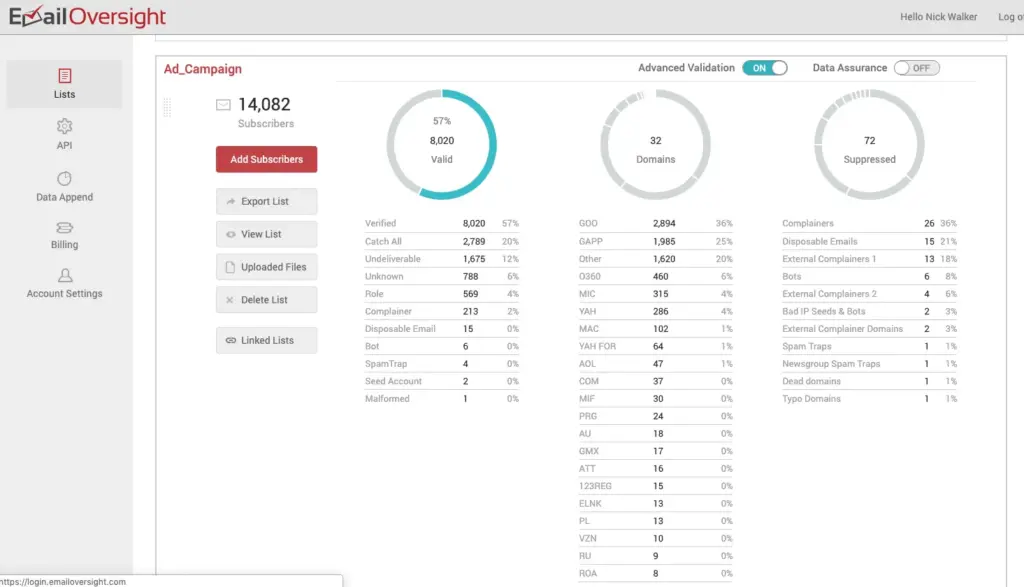 Image source: G2
EmailOversight is a software that leverages real-time email verification and email hygiene to improve email marketing campaigns. It identifies hard bounces, spam traps and bots to enhance the sender's reputation and deliverability.
The platform offers a multi-method validation process to detect email-based threats. The email addresses go through several scans.
The platform finds and removes traps, complainers and dormant accounts in the first scan. Then, the verification tools process your email addresses to determine their validity.
Its email activity feature measures engagement metrics. It tracks a user's activity with your email or website in the last few months. That helps you target the most engaged customers.
EmailOversight goes beyond email verification. It also helps you validate customers' phone numbers. It evaluates US phone numbers to ensure your messages reach customers. The platform guarantees compliance with all rules and regulations.
User rating
EmailOversight has a 5-star rating out of 5 on GetApp. Most users praise its speed and accuracy.
Features list
Hygiene and verifications scans to improve reputation, email deliverability and boost engagement
Phone validation to eliminate unknown or blocklisted phone numbers
Data enrichment to complete customer data
Postal validation to validate all postal addresses
What makes this tool unique
EmailOversight stands out among Xverify alternatives because of its multi-method solution. It combines email hygiene and real-time verification to provide the most accurate information.
Integrations
EmailOversight offers seamless integration with platforms like Mailchimp, Benchmark Email, ActiveCampaign and many others through Zapier.
Customer support
You can contact the representatives via phone or email if you have any issues or need assistance. Other resources are also available to you, including documentation and FAQ.
Pricing
This email verification software offers a monthly subscription that depends on the number of email addresses you want to verify:
$70 a month for up to 10k addresses
$125 a month for up to 25k addresses
$400 a month for up to 100k addresses
$750 a month for up to 250k addresses
Pros
Improves sender reputation
Data quality and accuracy
Easy integration with third-party tools
Offers tools that reduce spam complaints
Cons
Some issues with UI and functionality
Customers would like more options to export domains
4. Kickbox
Image source: G2
Kickbox is an email verification software for businesses that engage customers through email marketing. It provides email list-cleaning services to improve your campaign's performance.
The software determines the status and quality of email addresses through AI-powered technology. It combines syntax and domain checkers to provide accurate data. Connecting the Kickbox API automatically removes emails with typos once customers submit them on your website.
You can also use its email deliverability and monitoring service. It notifies you via numerous channels when your domain is on a block list. You can then apply remedy issues to remove your domain from the block list.
Like some other Xverify alternatives, it comes with email deliverability testing. You can test the deliverability and detect issues before you send your campaign.
User rating
The software has a 4.4-star rating on GetApp. Customers mostly appreciate how easy it is to use the platform. However, some also report that it sometimes labels email addresses as risky even though they aren't.
Features list
Domain checker that detects disposable email addresses
Accept-all domain checker that locates the domains that don't block any message
Syntax checker that identifies invalid addresses and typos
Deliverability and blocklist monitoring
What makes this tool unique
Kickbox offers real-time verification. That allows you to verify email addresses during form submissions or site sign-ups. Such a feature reduces the chances of having fake or mistyped email addresses on your list.
Integrations
Your business probably uses numerous tools for sending emails. Kickbox integrates with many of them, including ActiveCampaign, HubSpot, Mailchimp, Mailgun and many more.
Customer support
You can reach the team by
Phone
Email
Chat
Developer Slack
Pricing
The price depends on the number of verifications. It ranges from $5 for 500 verifications to $200 for 25,000.
Pros
Easy to use and upload lists
Great customer support
Detailed insights
Cons
Sometimes shows false positives
4. ListClean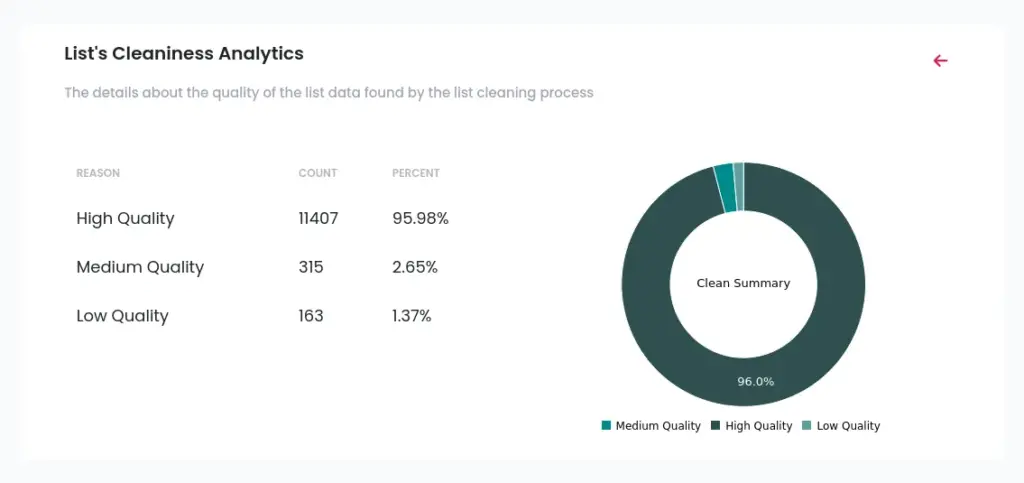 Image source: G2
ListClean is one of the leading alternatives to Xverify. It specializes in email list cleaning and verification.
This software relies on a comprehensive list of verification assessments to analyze your email addresses. These include syntax checks, spam trap detection and domain verification. By considering various factors, ListClean can provide highly accurate data.
ListClean also tackles hard bounces. To keep the bounce rate under control, it indicates why emails won't reach specific customers.
User rating
GetApp gave ListClean 4.7 stars out of 5. Its existing clients emphasize that the software is easy to use and navigate. However, they would like to see more integration options.
Features list
Spam tram detection
Abuse email identification
Syntax checker
Role-based email identification
What makes this tool unique
ListClean analyzes the MX records. It means that it verifies the mail exchange server. That way, you'll know which email addresses are real or fake.
Integrations
You can connect ListClean with third-party apps through Zapier. It integrates with HubSpot, Facebook Lead Ads, Asana and Google Ads.
Customer support
The ListClean customer support team is available via email only. Its registered phone number redirects you to its sales team.
Pricing
ListClean offers 200 free credits if you want to try the software. The paid plans range from $5 to $145 based on verification credits.
Pros
Easy to navigate
Features step-by-step tutorials
Cons
Limited integrations
Limited customer support options
Xverify alternatives: A short overview
Let's summarize all critical information regarding the best Xverify alternatives.
Software
User rating
Pros
Cons
Pricing starts at
Scrubby
5
User-friendly interface,
API access,
excellent customer support,
one pricing plan that includes all features,
the only email validation service that can validate risky emails
More expensive than other SMTP-based email validation services, but it goes beyond simple domain-level validation. You gain access to advanced features, improved email deliverability, an accuracy rate of 98.7%, and exceptional customer support. It provides the final validations after 2-3 days
$97 a month
KudosHub Email Validation
5
Great customer support,
cost-effective solution,
simple interface
Email Validator API needs better documentation,
sometimes invalid emails slip through, which decreases email deliverability
$8 a month
EmailOversight
5
Improves sender reputation,
data quality and accuracy,
easy integration with third-party tools
Some issues with UI and functionality,
customers would like more options to export domains
$70 a month
Kickbox
4.4
Easy to use and upload lists,
great customer support,
detailed insights
Sometimes shows false positives
$5 a month
ListClean
4.7
Easy to navigate,
features step-by-step tutorials
Limited integrations,
limited customer support options
$5 a month
Xverify alternatives: Our verdict

Various alternatives to Xverify provide different features. It's essential to review them carefully to find the one that best fits your business needs. 
Of all the options, Scrubby stands out as the top choice for those seeking high-quality lead lists, precise verification results, and real-time data collection. With Scrubby, you can build a dependable contact list that doesn't include undeliverable email addresses. 
Scrubby is the ideal solution for you if you want to enhance your email marketing campaigns.
Sign up today and get 100 credits for free!
FAQs about Xverify alternatives
Why is email verification important for email marketing campaigns?
Email marketing needs real customers with accurate emails to generate results. Marketers need email verification software to determine whether the emails are valid. These tools identify and eliminate invalid email addresses and clean your lead lists.
What are valid email addresses?
Valid email addresses feature a username followed by an email domain. For instance, common@email.com. "Common" is the username here, while "email.com" is the email domain.
How to validate email addresses?
You can validate email addresses with email verification software like Scrubby. It checks the spelling, identifies the email validity and checks for spam traps, among other things.

Sign up today and get 100 credits for free!