Image source: Capterra
Email communication remains a fundamental pillar of business interactions. Whether reaching out to clients, collaborating with colleagues, or engaging with customers, email plays a pivotal role in our professional lives.
However, maintaining a clean and reliable email list is often easier said than done. It is where email validation tools come to the rescue, ensuring your emails reach the intended recipients and minimizing the chances of bouncing or going unnoticed.
BriteVerify has gained a reputation as a reliable software solution for email validation. Its helpful features and user-friendly interface have assisted countless individuals and businesses in maintaining accurate email lists.
While BriteVerify offers several benefits, there are a few reasons you may seek alternative email validation tools.
Some of the common challenges include its pricing structure which may not be suitable for everyone, accuracy concerns regarding false positives or negatives, lack of integration options and the need for additional features for enhancing email marketing campaigns.
In this blog post, we will dive into email validation tools and compare some of the best BriteVerify alternatives. By understanding the downsides of BriteVerify and exploring alternative options, you'll be equipped with the knowledge to make an informed decision that best suits your email validation needs.
Our criteria for choosing the best BriteVerify alternative
Image source: SaasWorthy
Here's a short list of criteria to help you make the right choice.
Features and functionality
When choosing an email validation tool, the most crucial aspect to consider is its ability to detect invalid email addresses accurately.
The higher the percentage, the better.
This feature has the highest importance, and other software components become irrelevant if it doesn't work correctly. Verifying emails on a large scale also benefits your business, so ensure your chosen solution ticks all the boxes.
Features like removing spam traps, improved inbox placement, and blocklist monitoring are also necessary for successful sales or marketing efforts.
User-friendliness
Simplicity is vital when using an email checker tool to avoid adding more complexity to your workday. Choose a solution with an intuitive UI and a low learning curve.
Cost-effectiveness
The term "cost-effective" is sometimes misinterpreted as meaning something is cheap, but it refers to getting the most value for your money. When choosing a tool, it's important to prioritize high verification rates and email deliverability while considering the price.
Customer support
When choosing an app, it is crucial to consider the availability of a support team, the customer support channels, and the response times to user requests and needs.
Pricing
Your sales and marketing teams will use email verification software daily, along with other tools. Therefore, it is important to consider the price and leave room in your budget for other subscriptions.
Integration with third-party tools
Choosing an email validation tool is useless if it disrupts your workflow. The more integrations it offers, the more beneficial it is.
Current user reviews
It's important to read multiple product reviews from different users, as everyone has different needs and experiences. Look for common themes and patterns in the comments to gauge overall performance and customer satisfaction.
Now that we have discussed all the crucial factors you need to consider when choosing email validation software for your business, let's move on to our list of the top BriteVerify alternatives to assist you in making a decision.
BriteVerify alternative recommendations for 2023
Whether you're seeking more affordable pricing plans, enhanced accuracy, seamless integrations, advanced customization, or additional features to supercharge your email marketing efforts, the following best alternatives to BriteVerify are making waves in the industry.
1. Scrubby

Do you want to avoid dealing with poor-quality lead lists and inaccurate email addresses?
Scrubby is cutting-edge email verification software specializing in large-scale verification of catch-all, accept-all, or risky emails.
Say goodbye to outdated SMTP-based email validation tools that can only verify a portion of your email list. Scrubby goes the extra mile to provide highly accurate and reliable email addresses, significantly boosting your marketing and sales campaigns.
Discover how Scrubby can revolutionize your email marketing efforts and ensure your messages reach the right audience.
Register today and get 100 free credits!
User rating
Although Scrubby is a relatively new product, the few online reviews are overwhelmingly positive. It scores 5 out of 5 on G2.
Features list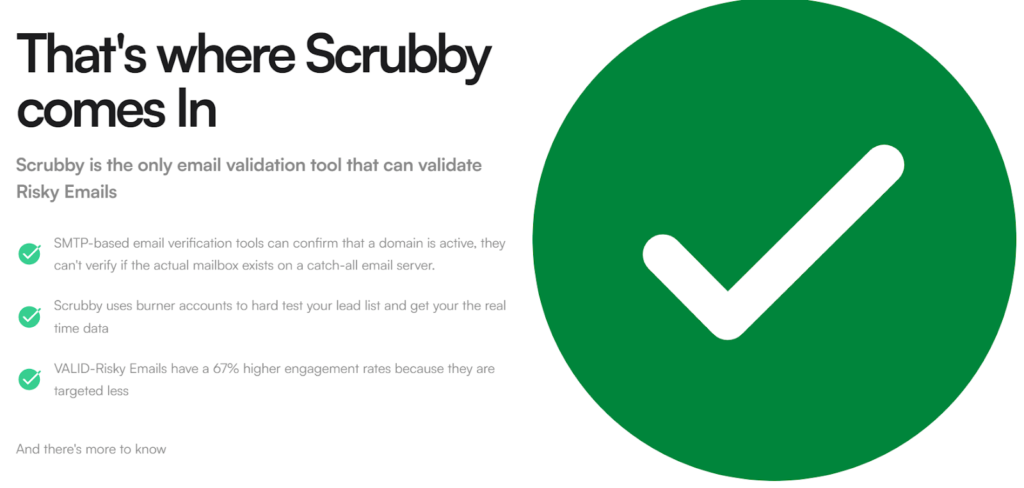 Efficient and effective large-scale verification: With Scrubby, managing large volumes of email addresses is a breeze. Its strong infrastructure guarantees quick and accurate verification, regardless of the size of your list. Scrubby eliminates the need for tedious manual processes or outdated tools that can't meet modern demands.
Improved lead list quality: Scrubby raises the bar regarding the quality of lead lists. Unlike other options offering partial verification, Scrubby takes a comprehensive approach to ensure that all email addresses are fully validated. Scrubby saves you valuable time, effort, and resources by identifying and removing invalid or undeliverable email addresses.
Enhanced verification capability: Scrubby offers advanced email validation services, providing accurate results for all your email addresses with a 98.7% success rate. Using burner accounts and real-time testing, Scrubby verifies the existence of email addresses and ensures your emails reach valid recipients. By using Scrubby, you can trust the reliability of your email lists.
Real-time data gathering: Scrubby keeps you up-to-date with the latest information on the status of your email addresses and provides timely insights into their validity. It empowers you to make informed decisions about your email campaigns, ensuring maximum deliverability and engagement.
Accuracy assurance: Scrubby employs a thoughtful approach by waiting 24-72 hours before providing you with the verified email list. It ensures that any potential bounces or undeliverable emails, which may occur within that timeframe, are captured.
High bounce detection rate: By identifying undeliverable emails rejected by the recipient's server, Scrubby helps refine your campaigns, improve your sender reputation, and increase your email deliverability rates.
Register today and get 100 free credits!
Integrations
In addition to manually inputting your email lists into Scruby, you can integrate it with other tools using API. It will provide you with a seamless experience.
Customer support
Our customer support team is available 24/7 via email or live chat to assist you with any questions or concerns, whether for initial setup or ongoing use of the tool.
Pricing
Sign up for the seven-day free trial to get 100 credits and see how Scrubby can boost your email marketing success.If you like what you see, you can subscribe to the Growth plan, priced at $97 per month with 2,500 credits included to verify and optimize your email lists effectively.At Scrubby, your satisfaction is a top priority. That's why any unused credits from your monthly plan won't go to waste. Unlike other services that expire unused credits at the end of the month, Scrubby ensures that your credits roll over to the following month. If you need more credits, we have you covered. You can get the following:

1,000 credits for $405,000 credits for $17550,000 credits for $1,625100,000 credits for $3,000500,000 credits for $12,5001,000,000 credits for $20,00010,000,000 credits for $150,000

Pros

User-friendly interface that simplifies the email verification processThe transparent and straightforward pricing structure All-in-one pricing packageSpecializes in validating risky emailsAPI accessExceptional customer support

Cons

You need to wait 24-72 hours to get the results back
2. Snovio
Image source: Reev
If you're looking for a CRM to help you find and validate emails, execute campaigns and close sales, Snovio is a good option. While it offers many features for the price, some users have found it challenging to navigate and have reported occasional inaccuracies in email verification results.
User rating
Snovio has a good score across all major review websites:
G2: 4.5/5
Trustpilot: 4.8/5
Capterra: 4.5/5
Features list
Here's what to expect from Snovio:
Email finder and verification
Sales CRM
Email warm-ups
Drip campaigns
Tech stack check
Various browser extensions
Integrations
Snovio offers various integrations, including support for up to 5000 tools through Zapier and several native integrations.
Customer support
The support team at Snovio is knowledgeable and active, but some customers have reported longer wait times on occasion. You can reach them through live chat or by using their help center.
Pricing
Here are Snovio's pricing plans:
Free trial: 150 credits, 100 email recipients
Starter: 1000 credits, 5000 email recipients for $30/mo
Pro: 5000 credits, 10000 email recipients for $75/mo
Pros:
Run your entire campaign from one app
A diverse feature set
Many integrations
Cons:
Occasionally inaccurate verification results
Has a high learning curve due to many features
3. TheChecker (now Emailable)
Image source: Capterra
TheChecker, now called Emailable, is a user-friendly email list checker that offers advanced tools and automation to help you eliminate and verify inactive and risky emails. However, there may be some room for improvement, particularly in the accuracy of the results, as it may mistakenly mark good emails as invalid at times.
User rating
The majority of its customers like Emailable:
G2: 4.8/5
Trustpilot: 4.1/5
Capterra: 4.7/5
Features list
Here are some of Emailable's best features:
Disposable and accept-all email detection
Verification API
Misspelled domain detection and validation
Email quality score
Real-time verification results
Gender detection
Integrations
Emailable integrates with Zapier, allowing you to connect it with various tools. Additionally, an API integration lets you link it directly to your platform.
Customer support
Emailable has a dedicated and responsive support team available through live chat. They also provide a help center.
Pricing
The cost of Emailable will vary depending on how much you use it:
5,000 credits for $30
10,000 credits for $50
25,000 credits for $125
50,000 credits for $225
100,000 credits for $420
250,000 credits for $725
500,000 credits for $1,300
1,000,000 credits for $1,800
2,500,000 credits for $3,375
Pros
Various verification tools
Excellent customer support
Many integrations
Cons
While there are various methods for detecting risky emails, there are instances when it may produce inaccurate results, such as false positives and false negatives
4. Proofy
Image source: SoftwareAdvice
Proofy is a cost-effective and user-friendly email list cleaning tool that helps ensure your messages reach their intended recipients by allowing you to double-check email addresses.
However, it is important to note that while Proofy promises up to 98.5% accuracy, this is only for email addresses marked as "deliverable." Many email addresses are classified as "unknown," lowering accuracy scores and increasing the risk of high bounce rates.
User rating
Customers are satisfied with Proofy:
G2: 4.7/5
Trustpilot: 4.8/5
Capterra: 4.8/5
Features list
Here's what Proofy does:
Duplicate email remover
Syntax errors, domain and server validation
Real-time verification bounce check
Disposable email checker
MTA validation and MX record checker
Single validation
Integrations
Regarding integrations, you can use Proofy API to connect it with your email provider. To upload your list, you can manually select TXT or CSV as the supported file types.
Customer support
Some users have expressed concerns that Proofy agents may not be the quickest to respond, however, you can contact them through phone, email, or live chat.
Pricing
As we noted, Proofy pricing plans are quite affordable:
100 emails for free
5000 emails for $16
10 000 emails for $29
30 000 emails for $63
50 000 emails for $99
You can also opt for custom plans and purchase more credits later.
Pros
Several validation methods
Simple to use
Very affordable
Cons:
Some emails may fall under the "unknown" category, indicating that they still pose a potential risk
5. TrueMail
Tool name
User rating
Best for
Pros
Cons
Pricing
Scrubby
5/5
Validating risky emails
– 98.7% accuracy
– Large-scale verification
– Premium suport
– It takes up to 72 hours to receive the final validations
Free trial, Growth plan for $97/mo and additional credits
Snovio
4.6/5
Contact management and cold outreach
– Run your entire campaign using one app
– Diverse features
– Many integrations
– Accuracy could be better
– Steep learning curve for new users
Free trial, premium starts at $30/mo
Emailable (The Checker)
4.5/5
Email checking and list cleaning
– Many verification methods
– Great support
– Many integrations
– False negatives and positives
Starts at $30/mo
Proofy
4.7/5
Validating email addresses through syntax verification, domain validation, MX records and more
– Several validation options
– Simple
– Affordable
– Too many emails in the "unknown" category
Free plan,
premium starts from $16/mo
TrueMail
3.8/5
Bulk email checking and cleaning
– Validates emails in 5 minutes
– Good customer support
– Shows issues with result accuracy
Starts from $7/mo
What is the best BriteVerify alternative?
Of all the BriteVerify alternatives, we recommend trying Scrubby as we believe it's the best software on our list.
It's the only solution that can verify your risky emails at scale. While the process may take up to 72 hours, the delayed verification ensures the most accurate results which is the primary goal of all email verification tools.
Other alternatives may provide faster results but can't match Scrubby's accuracy.
So why wait?
Register today and eliminate any risky emails from your list for good!
BriteVerify alternative FAQs
What is the best email verification tool?
Several email verification tools are available, but Scrubby stands out as the top email verification software in the market. Its features, including testing burner accounts and delayed verification, can identify risky emails and reduce your email bounce rate, protecting your server's sender reputation.
How to use email verification tools for email marketing campaigns?
To use an email verification tool for email marketing campaigns, sign up for an account, import your email list, initiate the verification process, review the results, remove invalid addresses, segment risky addresses, update contact information, and repeat the process periodically for improved deliverability.