In an environment of constantly evolving digital communication, the cornerstone of Email Marketing success is the implementation of comprehensive email verification and validation processes, ensuring the usage of high-quality email lists for effective outreach and engagement.
Business email lists are a gold mine if invalid entries are maintained regularly. In this case, email verification and validation tools and services come in handy. They have a paramount role in providing email list accuracy, higher deliverability, and email marketing campaign effectiveness. Having these tools in hand, businesses can easily verify invalid or risky email addresses, and take action to protect the sender and IP reputation.
As obtaining a "clear" list enhances your marketing efforts, we are going to present to you a combined method to approve higher email deliverability rates. In this article, we will review two market giants – Scrubby and BriteVerify, and leverage their features for getting verified and validated email lists to streamline email marketing strategies.
Email List Hygiene: Verification and Validation Solutions
Email list hygiene is the practice of constantly maintaining and cleaning the included email addresses highlighting the existing, not existing, duplicate, or outdated email addresses. Verification and validation are inseparable parts of this process ensuring a quality list for better deliverability, reduced bounce rates, and increased sender and IP reputation.
Email verification tends to check the email address's validity, detecting syntax errors, spam traps, or disposable emails. In contrast, email validation goes further by detecting problematic or risky catch-alls and giving an opportunity to still include them in your campaign.
Regularly verifying and validating your email list can save you time, effort, and resources in the long run while assuring that your emails reach their targeted recipients.
Scrubby and BriteVerify: Understanding the Distinctions Between Verification and Validation Tools
BriteVerify: Empowering Email Marketing Campaigns with Verification
BriteVerify is a leading provider of comprehensive email verification solutions designed to ensure the accuracy and efficiency of email communications. With over a decade of industry expertise, BriteVerify is a highly reliable tool for businesses seeking scalable data management and email deliverability solutions.
By offering a perfect suite of features, BriteVerify empowers businesses to verify and maintain accurate contact data by getting "Valid" and "Invalid" email address segments across various platforms and regions.
Getting Started: BriteVerify offers a simple and quick signup process.
Integrations: BriteVerify seamlessly integrates with all the major Email Marketing platforms, service providers (ESPs) and CRMs, DemandTools, and Everest.
24/7 Customer Support Service: All users have an opportunity to get the needed guidance from BriteVerify specialists whenever they need it.
BriteVerify verifies information at the point of entry to enhance customer and internal team experiences. This app prides itself on providing scalable bulk email verification services that are able to process 4,000 email addresses per minute on average.
Moreover, BriteVerify's global reach and compliance with strict data protection regulations, such as GDPR, ensure a high level of privacy of its services worldwide. A flexible network of servers distributed globally and verification algorithms that are geographically aware, enhance BriteVerify's accuracy level making it specific to each country.
Key Benefits of BriteVerify:
Real-time email verification
Efficient data management
Global accuracy
GDPR compliance and strong data security
API access
24/7 BriteVerify web app access
Bulk verification capabilities
Scrubby: Powering Your Email List with Instant Validation
Scrubby is a remarkable email validation tool designed to optimize the efficacy of your email list by particularly focusing on managing and validating "Risky" and problematic email addresses rendering them back to the Email Marketing campaign. It assures your domain security and maintains your IP reputation, thereby significantly promoting and doubling open and response rates. Operating at an impressive accuracy level of almost 99%, Scrubby effectively reduces email bounces and maintains a robust data security framework.
Getting Started: Scrubby provides a user-friendly platform and a fast, and intuitive setup process.
Integrations: Highly integrates with CRM and Email Marketing platforms, as well as compensates for the lack of built-in integrations with seamless API access.
Round-the-clock support: To facilitate a smooth user experience, Scrubby offers 24/7 fast replying support service through Live chat and Email.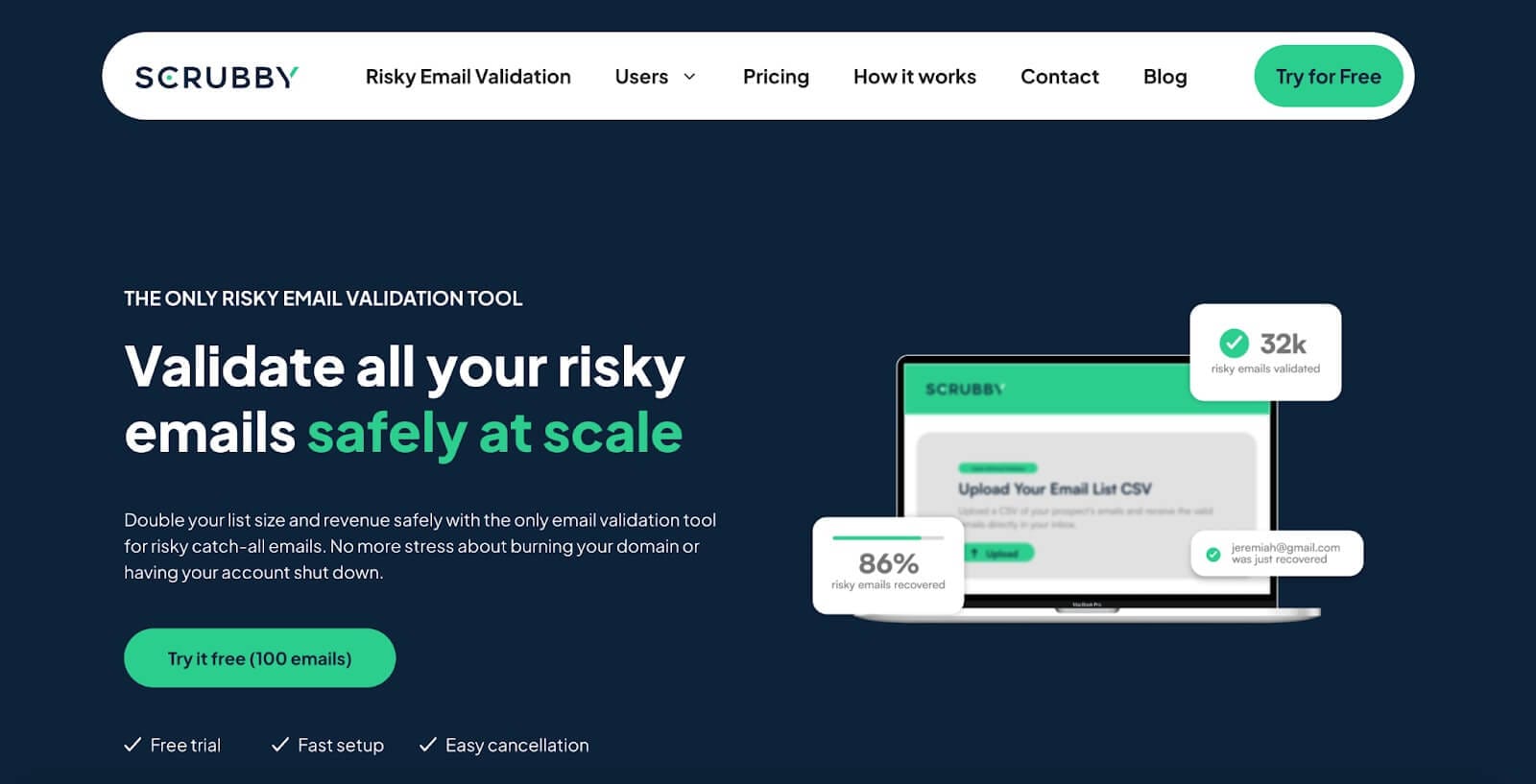 Not only businesses of all types and sizes but also email marketers can take big advantage of Scrubby to enhance the campaign's effectiveness and Return-on-Investment by conducting targeted outreach.
Scrubby's exceptional functionality lies in its ability to validate "Risky" emails preventing the exclusion of any qualified lead from your email list. This, in turn, reduces hard bounces with a high level of accuracy leading to an improved deliverability rate. Scrubby deeply dives into your email list promising absolute results within an extensive time frame of 48-72 hours. Scrubby's email list validation service waits 48-72 hours before giving the lead list back as some emails can bounce up to 2 days after sending.
Key Benefits of Scrubby
Smooth and fast setup
98.7% accuracy level
Integration with popular SMTP-based email verification tools (BriteVerify, NeverBounce, ZeroBounce, etc.)
Compatibility with famous data vendors (Cognism, Apollo, etc.)
Robust data security and GDPR compliance
24/7 premium-quality customer support
7-day free trial with 100 validation credits
Flexible and user-centric pricing
Quick click-to-cancel model
After completing the signup process, users are granted 100 complimentary credits for a 7-day trial period, enabling them to explore Scrubby's premium features.
Scrubby's basic subscription starts at $97 monthly, offering 2,500 validation credits at a rate of 3.88 cents per new credit.
For more credit usage, users can select customized plans tailored to their needs and ranging from 1,000 to 10 million email validations, starting at 1.5 cents per email validation.
Joining the Strengths: Scrubby and BriteVerify in Action for Infallible Email Marketing Strategy
By uniting the powerful features of Scrubby and BriteVerify you will have a perfectly curated and highly converting email list primed for your strategized and result-oriented Email Marketing campaigns. You are able to handle the process in a few simple steps:
Email list procurement: Import your email list from one of the famous data providers, such as Apollo, Cognism, etc.
Starting with verification: Verify the email list addresses with a global accuracy of BriteVerify to reveal the true nature of each lead getting them segregated into "Valid" and "Invalid" email addresses.
End up with full validation: Leverage Scrubby's features to validate the "Risky" catch-alls to further use them in the campaigns.
Start a campaign with a clean list: Launch your Email Marketing campaign to ensure a targeted outreach through the totally verified and validated list.
Scrubby and BriteVerify: Distinguishing Features
Validation Level: BriteVerify conducts a thorough verification process. Meanwhile, Scrubby goes beyond by validating potentially risky and problematic emails assuring their further usability.
Accuracy: Scrubby provides up to 99% accuracy, whereas BriteVerify stands out with its global accuracy level.
Wrapping Up – Combining Scrubby and BriteVerify
Combining Scrubby and BriteVerify enables you to establish an accurate and precise email list. This guarantees that your Email Marketing campaign not only reaches your intended destination but also prompts active engagement and conversions by raising your brand's awareness in the competitive market.